Banana boat rides in San Felipe
Rent a banana boat that is pulled by a panga boat and enjoy the ride across the gentle waters of the San Felipe Sea of Cortez
Banana Boats
Enjoy Banana Boat Rides
San Felipe Banana boat rides - if you have not ridden one before, you have may have seen it in a movie or on T.V. The mellow waters of the Sea of Cortez in San Felipe Mexico are an ideal place to rekindle the adventure spirit in you and go for a banana boat ride. These inflatable boats, the shape of a banana, hence the name banana boat, are hauled across the water by a panga boat which is attached to the banana boat by a cord. The goal is to try and hold on to the banana boat as it hauls you and your crew across the water.

Banana boat rides are suitable for all ages. When the panga boat captain, who is hauling the banana boat, sees there are little kids on the banana boat, they will go more gently. If you are a group of teenagers or adults, you want to go faster. Everyone gets a life vest, so if you do fall off, you will be floating and the captain will circle back to pick you up. Getting back onboard the banana boat is pretty easy.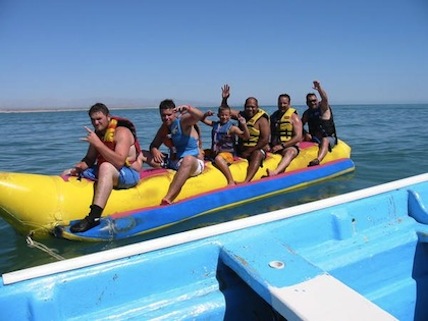 Banana boats seat up to 6 adventurers and you pay $20 - $30 for a 30-minute ride. Be sure to negotiate the rates before you go on the ride. Best place to rent these boats are along the Malecon in downtown San Felipe.
Tweet