Bahia de Los Angeles
Visit Bahia de Los Angles - Swim with Whale Sharks and Sea Lions
Bahia de Los Angeles ("Bay of the Angeles") is a Biosphere Reserve just 4 hours drive South of San Felipe, Baja California, Mexico. Like San Felipe, Bahia de Los Angeles is also located on the Gulf of California. To visit Bahia de Los Angeles is to appreciate nature`s raw beauty. Visitors to San Felipe often combine the visit to San Felipe with a visit to Bahia de Los Angeles.
The water in Bahia de Los Angeles is usually pretty clear, which makes it a great spot for scuba diving and snorkeling. A local dive shop in Bahia has rental equipment and organizes diving trips in the area along the many islands.
Best time to visit Bahia de Los Angeles
Bahia de Los Angels can be visited year round. The time you chose to visit will depend on what activity, if any, you plan to engage in on your visit. If you are simply passing through on the way North or South, the time of the year is not important. If you are visiting to swim with whale sharks, the most popular time to visit is August to November. Important to remember is that Bahia is a desert and the temperature varies greatly between summer and winter months. Summer temperatures range between 90 - 100 degrees Fahrenheit.
Swimming with Whale Sharks at Bahia de Los Angeles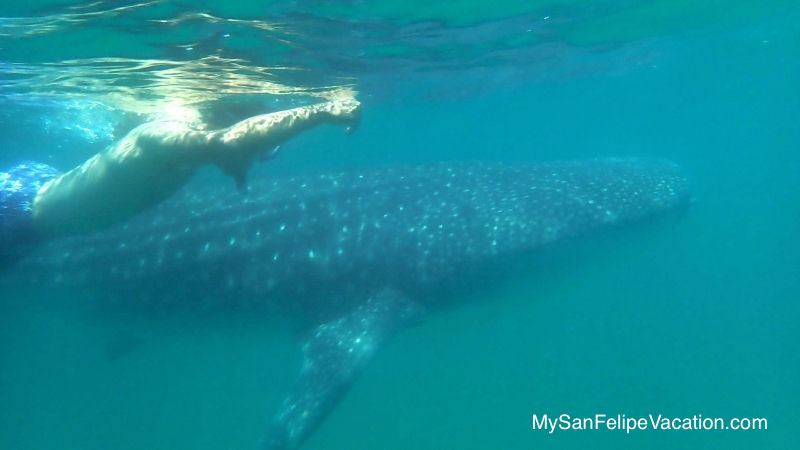 Swimming with whale sharks is an incredible experience. The sharks are attracted to Bahia de Los Angeles by the abundance of plankton. The sharks migrate up Baja California to Bahia from early August and stay around until November. It can be tricky figuring out if when the whale sharks have actually arrived. So we recommend to check with a local. Usually the local hotels or dive shop can be contacted to get this information.
Preparing to Swim with Whale Sharks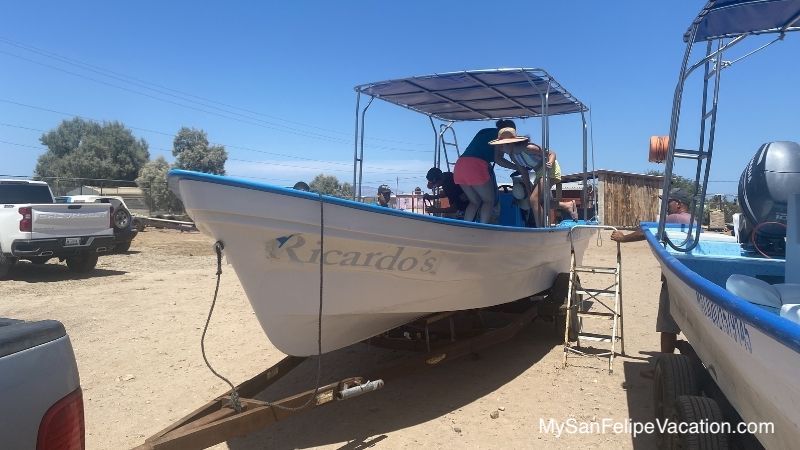 Whale sharks are gentle giants. So there is no reason to be afraid of them. Some times, the whale sharks come close to shore and you can swim out to meet them. But it is recommended to hire a boat and let the boat captain search for the sharks in the bay. Generally, the boats can take 8 - 10 passengers. Each boat will only allow 4 people at a time in the water to approach the shark. This is done to keep the burden on the sharks to a minimum.
Most boats will give you a live vest, but it is perfectly fine to get in the water with the shark with just fins. Usually, the boat will figure out which direction the shark is swimming, get ahead of the shark and have you jump in the water and swim towards the shark.
The one item you don`t want to forget to bring on this trip is an underwater camera. The sharks swim slowly and you will have plenty of opportunity to get great pictures to keep as memories to to post to your social media feeds.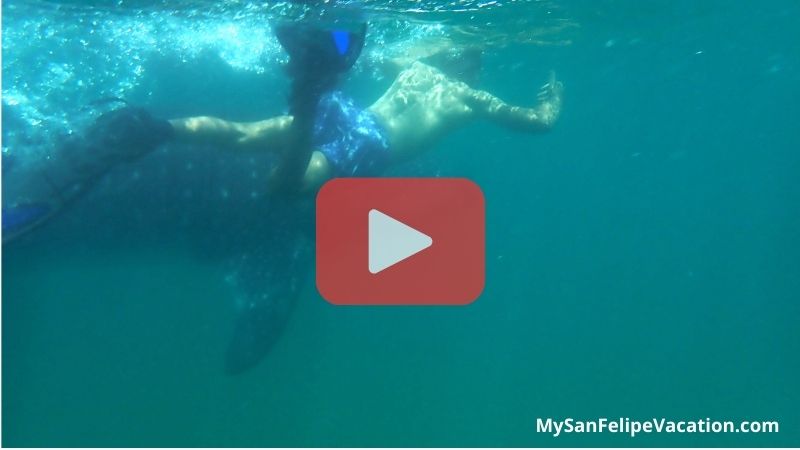 Swimming with Sea Lions in Bahia
While Whale sharks spend time usually in middle of the bay, the Sea Lions in Bahia de Los Angeles can be found around the many islands in the bay. Sea Lions feed on fish and there is plenty of them around the islands. The sea lions sometimes migrate between the islands, so it`s recommended to let an experienced boat captain take you on a voyage to find the best spot to meet the sea lions.
How to Swim with Sea Lions
Sea lions are naturally curious creatures. They do not have an innate fear of humans, so it`s possible to get pretty close to them. The trick with getting close to sea lions is not trying to pursue them. Best is when you swim towards the general area where they are, then relax in the water and wait for the sea lions to approach. Swimming in fins and snorkel gear is sufficient. It`s easy to float in salty water. For children a live vest can be worn for extra peace of mind.

Time flies by when you are having fun - before you know it, you will be spending a lot time in the Sea of Cortez admiring these magnificent creatures. So you want to make sure you apply a good amount of sunscreen to protect from sunburn.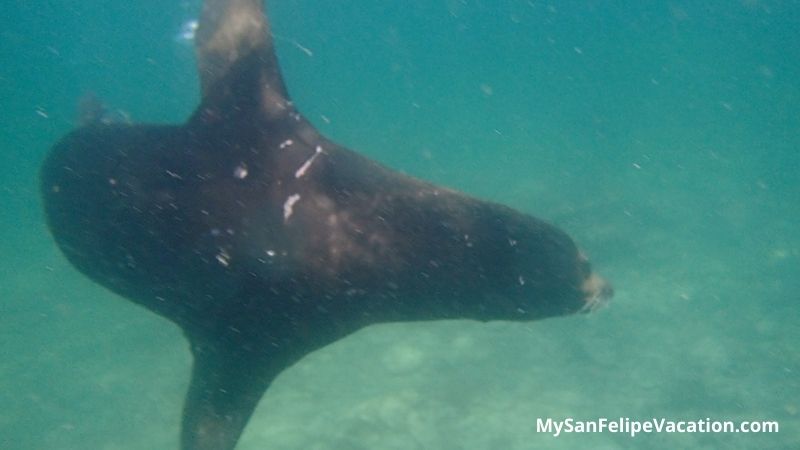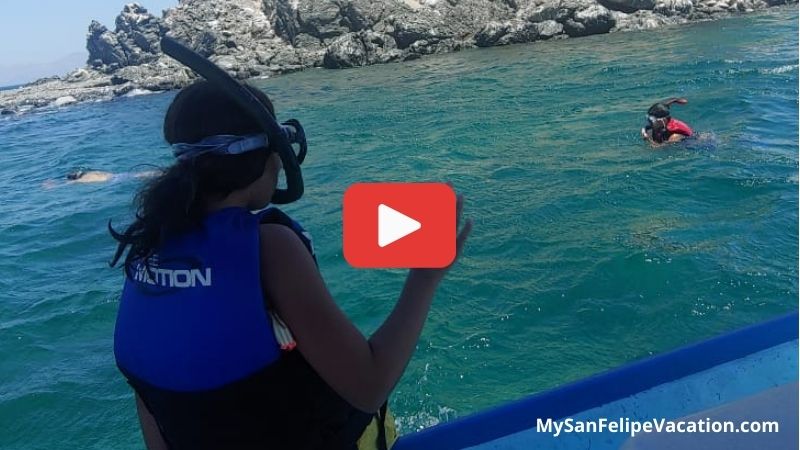 Scuba Diving and Snorkeling in Bahia
As most divers know, islands tend to be a place for marine life to congregate. There are many little islands in Bahia de Los Angeles making for awesome diving and snorkeling experiences. The water temperatures fluctuate by the time of the year. In the summer months, a 3mm dive suit is plenty for divers and snorkeling can be done in a little more than your birthday suit. In the cooler months, a 5mm to 7mm dive suite is recommended.
There is a local dive shop which rents dive and snorkeling equipment. You can find everything from BCD, Regulators, dive computer, fins, masks, etc. The dive shop also has boats. The diving and snorkeling experience starts from the dive shop premises. From here, divers hop in the back of the boat which is connected to a truck. This gets towed for a 10 minute drive to the port and you`re off to. your dive spot. Things to see include angel fish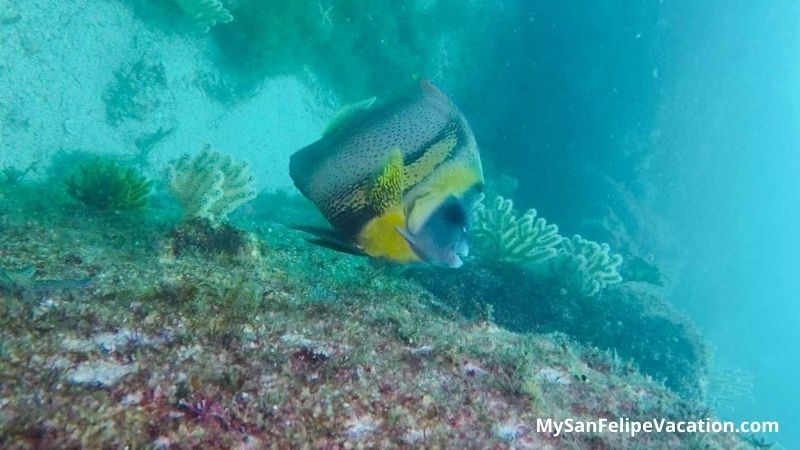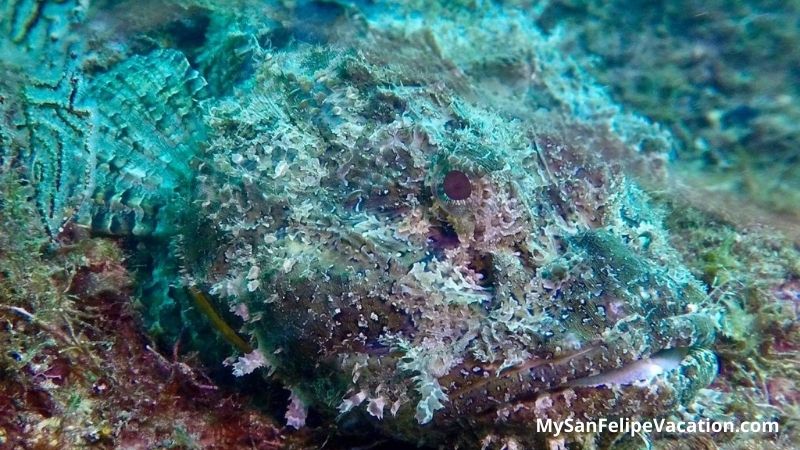 La Gringa Beach
Any where you are in Bahia de Los Angeles, you will be close to the beach. However, take the time to drive 10 - 15 minutes out of town to La Gringa Beach (aka Playa Gringa) and you will be rewarded with a super calm beach that is friendly for all ages. There are very little currents here and the depth of the water decreases very gradually making it safe to allow kids to play in the water without worry.

While in the water, be sure to explore the diverse marine life below your feet. This beach is uncrowded and clean. All visitors are requested to take their trash with them to ensure cleanliness for everyone`s enjoyment.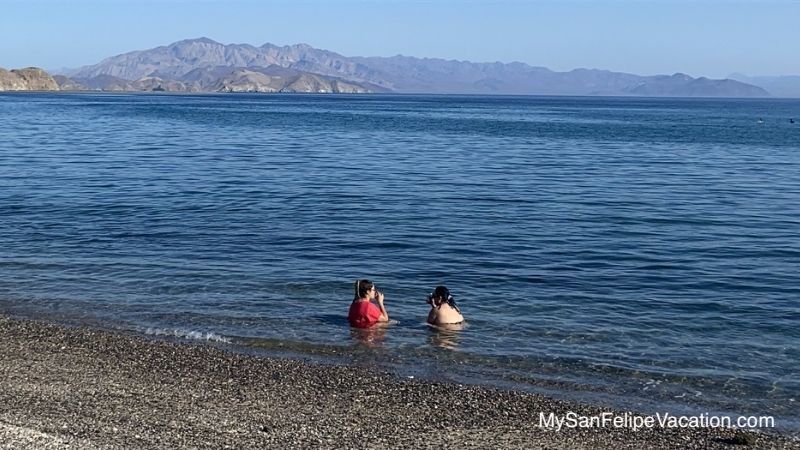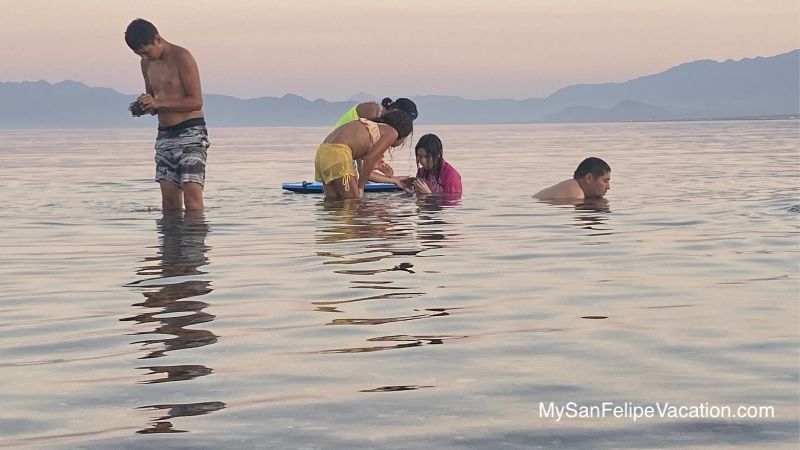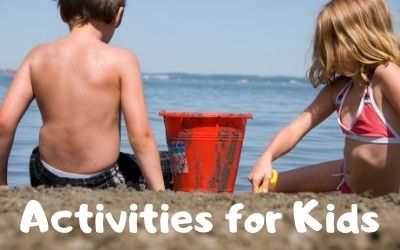 Accommodations in Bahia de Los Angeles
Some visitors to Bahia de Los Angeles, chose to camp while others chose hotel accommodation. There are several hotels to chose from. Most hotels rely on the popular booking sites like TripAdvisor and Expedia to take reservations. The exception to this Los Vientos Hotel which you can book directly on their website.
Road conditions from San Felipe to Bahia de Los Angeles
If you did a google map search of travel time between San Felipe and Bahia de Los Angeles, as of December 2020, the estimated time is 5 - 6 hours. This time reflects the road constructions diversion which were going on between Gonzaga and Chapala. However, since August 2020 when the brand new highway construction was completed, San Felipe to Bahia de Los Angeles, now takes less than 4 hours.
Because of newly completed highway between Gonzaga and Chapala, drivers heading to Bahia de Los Angeles from San Diego and Ensenada areas prefer to take a detour and travel along the Eastern edge of Baja California through San Felipe. Even though the detour over San Felipe is longer mileage wise, you save on travel time as you average higher speeds than if you drove South along the Western edge of Baja California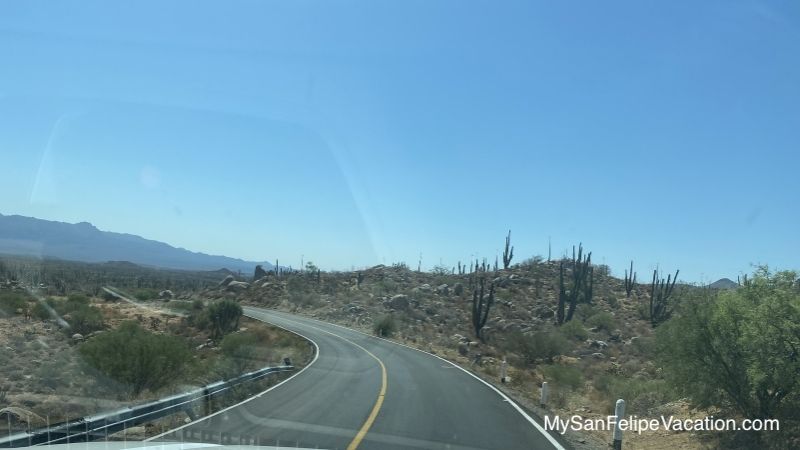 The drive to Bahia is a scenic one. You will be driving South and be rewarded with picture perfect views of the Sea of Cortez and surrounding mountains. Feel free to stop and take pictures. This is one trip you are sure to get lifelong memories.