20 Fun Things do with Kids on Vacation in San Felipe Mexico
San Felipe
is a great place to bring a family for a low-key vacation. It is a quiet fishing village where you can find pristine beaches, impressive
local restaurants,
charming boutiques, and beautiful scenery. Families come to
San Felipe
for a peaceful beach vacation away from the traffic and noise of the more crowded Mexican tourist spots.
If you are bringing your young kids and teenagers to San Felipe, here are 20 things you must try while youre here.
Look for sand dollars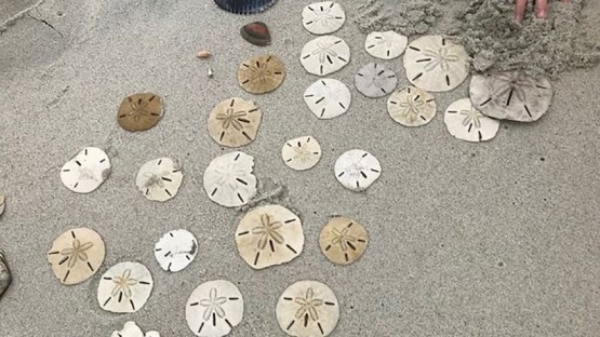 You can find sand dollars all up and down San Felipe's beautiful beaches. Send your young kids on a mission to collect as many as they can find. Keep one or two to bring home as a memento from your trip, or for use in creating
sand dollar crafts
of various types. They can be used for creating ornaments, jewelry and so much more. This is one activity that is sure to keep the kids engaged the build on their creativity.
What You Need:
Nothing! You can spot sand dollars without any special equipment. You can usually find them on the surface of the sand right where the sand meets the water.
Why We Love It
Searching for sand dollars is something that kids can do independently. They love the thrill of finding a sand dollar in the sand, and it's a free activity that will keep them busy for a long time.
Float on inflatables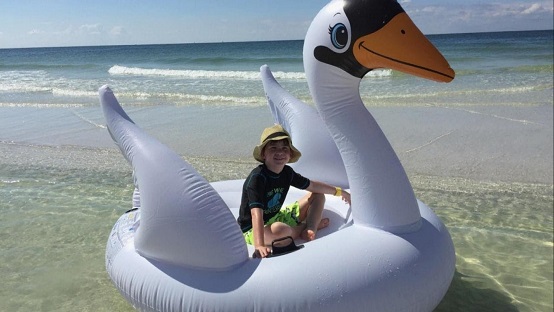 There are many different ways to play in the water in San Felipe. The warm waters of the sea of cortez makes it fun to spend all day in the water. One way to keep kids busy at the beach is to surprise them with a few inflatable toys and rafts to play with in the water. And with little to no currents, parents can relax and watch the kids from the distance.
What You Need:
You can pick up a few inflatables at
local shops
on the beach or the
local grocery store
. Most can easily be blown up without a pump, but you can also purchase a pump at some of these stores.
Why we love it:
Kids and adults alike love the idea of relaxing on something soft and inflatable while relaxing on the beach. Inflatable rafts are a great way to be in the water without being completely in the water. Floats are inexpensive, easy to transport (when deflated), and is a fun way to play in the water.
Squirt guns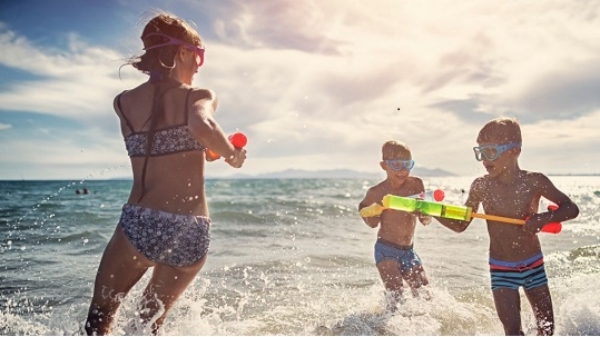 Temperatures can get in the triple digits in the summer, and many families are looking for a way to get relief from the heat. Start a squirt gun battle, parents vs. kids, and create memories that the little ones will remember forever. Squirt guns are relatively affordable and lots of fun.
What you need:
You can purchase squirt guns from many of the
local beach shops
. That's all you need. If you're playing on the beach, you have an unlimited refill station right at your feet!
Why we love it
The squirt gun battle is more about the quality time families spend together than it is about the squirt guns. These inexpensive toys are easy to find and can be used by kids of all ages.
Build a bonfire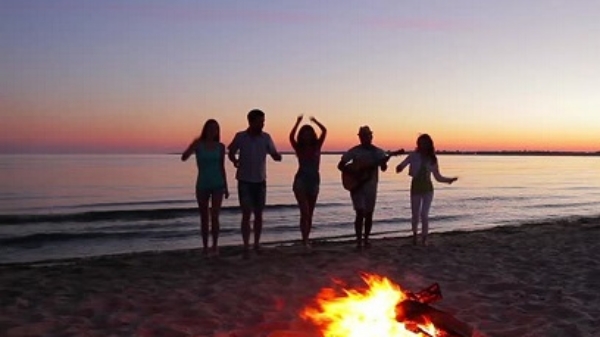 If you've never built a bonfire on the beach before, San Felipe is the place to do it. While the fires should always be started and managed by adults, kids can enjoy the warmth of the fire at sunset and help (with supervision) keep the flames going. You may bring the wood for the bonfire with you as you head to San Felipe, or you can pick this up at the local Oxxo stores. Of course, you can always gather sticks around you while you are here.
What you need:
Have the kids collect dry sticks and driftwood to help keep the fire going. Adults can dig a fire pit, arrange the wood, and use matches or a lighter to start the bonfire.
Why we love it
A bonfire is an inexpensive way to connect with nature. It can be a team-building experience for the whole family and creates a picture-perfect way to end a busy day on the beach.
Make S'mores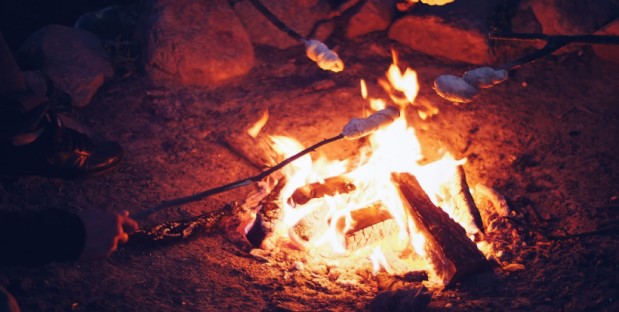 While you've got the bonfire going, introduce your kids to a classic bonfire snack:
S'mores
. This yummy treat is made even better when enjoying the marshmallowy goodness whole overlooking the sunset. Tip - Have you kids review
S'more recipes
for their favorite s'more and have them start thinking of how they plan to make theirs.
What you need:
S'mores are easy to make. You can pick up the three ingredients at the local grocery store. All you need is graham crackers, chocolate pieces, and marshmallows. Send the kids on an adventure to find the perfect sticks for roasting the marshmallows.
Why we love it:
One word: Chocolate. This sweet treat is as fun to make as it is to eat, and the kids will remember it as the perfect after-dinner beach dessert.
Make a beach treasure jar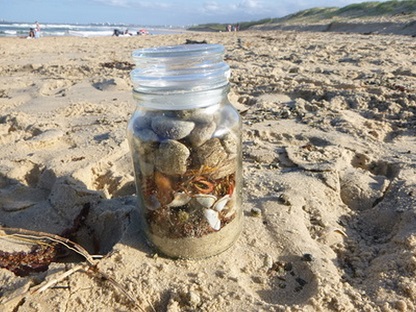 There are so many little trinkets you can collect during your daily visits to the beach. Designate a small mason jar as a beach jar and use it to hold things you find on the beach. Fill the bottom with sand and add shells, sand dollars, and other things you find in the waves and sand.
You can also change the theme to your "San Felipe" jar and add mementos of your trip, such as pictures, souvenirs you purchase from a local boutique, flyers, and ticket stubs.
What you need:
A clear jar with a lid. Everything else you can find on the beach or in the city
Why we love it
Creating a memory jar helps kids be observant and look for things on the beach that they can add to the jar. It fosters teamwork and creativity, and by the end of the trip, you have a very personal and unique souvenir from your trip to San Felipe.
Buy a metal detector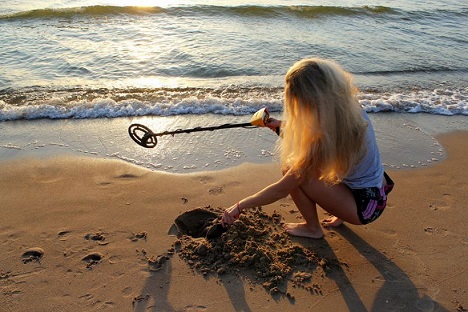 People lose money, jewelry, and other things in the sand all the time. A metal detector can be a fun way to find some of these lost treasures. You can buy a metal detector from Bodega, San Felipe's major superstore.
What you need:
Just a metal detector. You may also want to bring a small shovel to dig for your treasures and a bucket for the things you find
Why we love it
Most kids have never used a metal detector before and will love the excitement that comes from listening for beeps and digging for treasure. While they may only find metal scraps and old soda cans, it is still a fun beach activity!
Play 500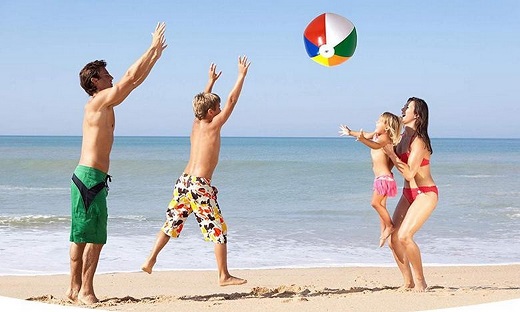 500 is a game that you can play anywhere and is a fun and easy way to get active on the beach. 500 is played when one person tosses a ball as high as they can into the air and shouts a point value. The person who catches the ball earns those points, and the first person to get to 500 points wins
What you need:
2-3 players and a ball. Bring your own ball or buy one at one of the local beach shops.
Why we love it
Kids of all ages can play, and games can last as long or as short as you want. It can be an easy, laid back game or a competitive and physical activity.
Make seashell necklaces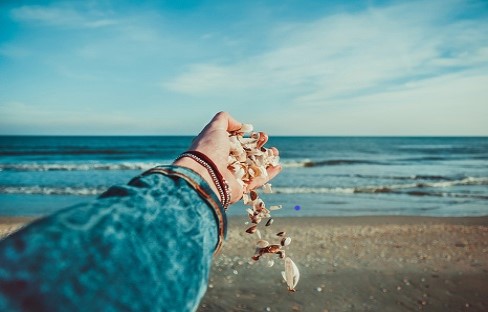 Get creative by collecting seashells and sand dollars and turning them into a fashion statement. Look for shells that have a tiny hole in the top, and weave a string through to create a necklace. This is a great way to keep kids busy and allows them to make their own beach-themed souvenir to take home. While seashells can be found along the beaches in San Felipe, one beach in particular stands about for the number of shells - aptly named
Shell Beach
, this beach is located at KM 12 on San Felipe - Puertecitos Highway.
What you need
String or twine. You can find the ornaments for your jewelry in the waves and sand.
Why we love it
Creating beach jewelry is a calm and quiet activity, and can be ideal for parents who need to bring the energy level down a bit. It encourages exploration, creativity, and fine motor skills. Kids also get to create something they are proud of that reminds them of their visit to San Felipe.
Horseback riding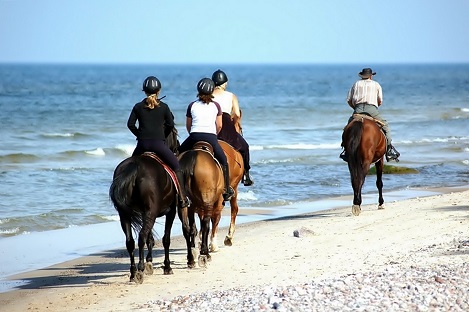 Horseback riding is a popular pastime in San Felipe and a fun way to explore the beautiful beaches and scenery along the shores. You can book a horse riding experience while visiting the Malecon and ride these gentle giants up and down the boardwalk. These Pinto horses are gentle and recommended for kids of all ages. Another great idea is booking
horse riding lessons and/or excursions
with
Lynn
who runs
Horses in Baja
.
What you need:
Make your way to the San Felipe Malecon or contact Lynn before your trip to arrange for a horse riding experience for the whole family.
Why we love it
Horseback riding is a great way to connect with nature and experience the beach in a brand new way. For children who have never been on a horse before, these tours are perfect for beginners You can explore many of San Felipe's diverse terrains on horseback!
Play pass the water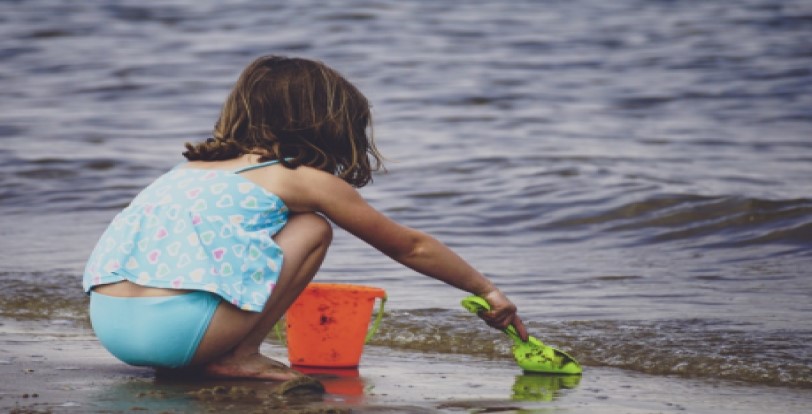 Pass the water
is about as easy as it sounds, and is a fun beach game for kids of all ages. Simply hand out cups or buckets to all players and have them stand in two lines, one in front of the other Fill the first person of each line's cup with water and have them slowly lift their cup over their head and pour it into the waiting cup behind them. Continue this technique down the line until the water gets to the last cup. Whichever line has the most water in the last cup at the end, wins!
What you need
Enough cups or buckets for everyone playing.
Why we love it
It is a silly game that kids of all ages can play, and it doesn't require any special equipment. The splashing water cools hot kids off as they play on the beach, and the game encourages teamwork, patience, focus, and coordination.
Build a tent

Before you use your beach towels to dry off, you can hang them over beach chairs and other structures to create a beachy retreat from the sun. Kids can work together to build a beach tent and enjoy a kid-size fort in the sand
What you need
Beach towels, and maybe a few clothespins or clips to secure the towels to posts, sticks, or chairs.
Why we love it
Who doesn't love a fort? Building a beach tent can keep kids busy for a while and can be as simple or elaborate as they want it to be. You use what you bring to the beach, and you may even be able to convince them to take a nap in their cool tent!
Have a dance party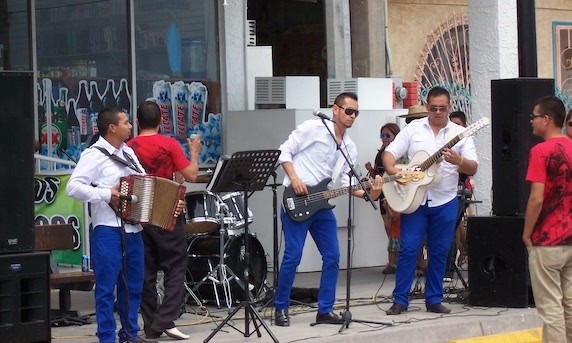 You can't walk through the streets of downtown San Felipe or down the
Malecon
without hearing local artists singing and creating music. Pick a spot on the beach next to a musician and host a dance party. See if you can get other beachgoers to join you! If you can't get close to live music, play some of your favorite tunes on your phone and get moving!
What you need
Your favorite music
Why we love it
Dance connects people across all cultures and is a great way to express yourself. Dancing helps kids burn energy and develop an appreciation for music.
Build a sand city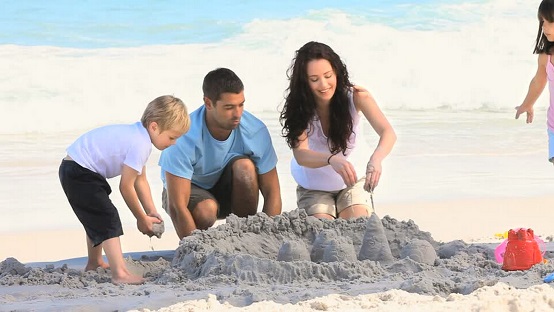 There are sandcastles, and then there are sand cities. Challenge the kids to
build a sand city
. Map out a section on the sane and let your kids create road systems, schools, neighborhoods, mountains, rivers, and other landmarks. Encourage them to experiment with wet and dry sand, and use different tools to create a diverse landscape.
What you need
You can build a sand city with your hands, but sand tools may help with the details. You can buy sand toys like shovels, buckets, and molds at many of the local beach stores.
Why we love it
Playing in the sand is such a big part of going to the beach. Building a sand city encourages teamwork, creativity, persistence, and experimentation. At the end of the day, they will have an elaborate project to be proud of. And they may even be able to invite other kids to help and make some new friends!
Beach golf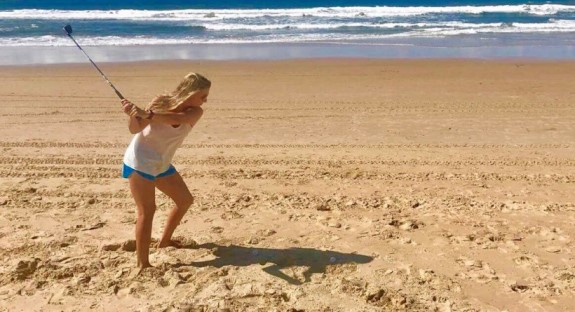 Beach golf can be as easy or as complicated as you make it. Just like traditional golf, the goal is to get a small hole in a designated hole in as few attempts as possible. Your kids can dig a simple hole and work on their aim, or create elaborate courses with ramps and obstacles for more of a challenge.
What you need
A small ball and something to hit it with (like a golf club) You can get creative and use what you have, or you can look for beach golf sets in local shops.
Why we love it
Beach golf is a low impact game that everyone can play. It can be quiet and low key or it can be a competitive way to enjoy some fun in the sun. You only need a ball and something to hit it with, you can get creative with your equipment or purchase a beach golf set and bring it with you.
Go skimboarding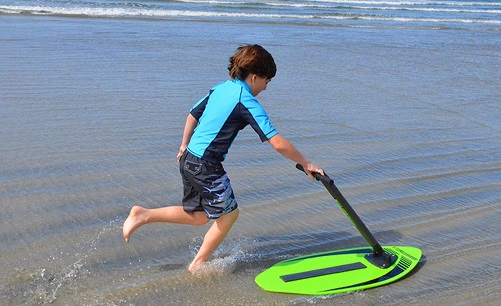 Skimboarding is a popular beach activity for older kids, as it requires basic balance and coordination. Skimboarding is done using a thin, aerodynamic board that floats over the surface of the water, right where the tide comes in. The idea is to toss the skimboard onto the water, run and jump onto the board and skim over the water.
What you need
A skimboard. And some patience.
Why we love it
A skimboard is a challenging new activity to try the next time you're on the beach. It can be a great introduction to other water sports like surfing and is a great workout.
Beach race
Kids love to run, and what better place to do see how fast they can go than right on the beach? Designate a starting point and finish line, and let them go! Have them experiment with running through different conditions, such as through the water, through compact sand, and dry sand.
What you need
Nothing! This beach activity is free and doesn't require anything but your body!
Why we love it
It gets kids moving, burning energy, and makes them extra tired for a good night's sleep.
Ring Toss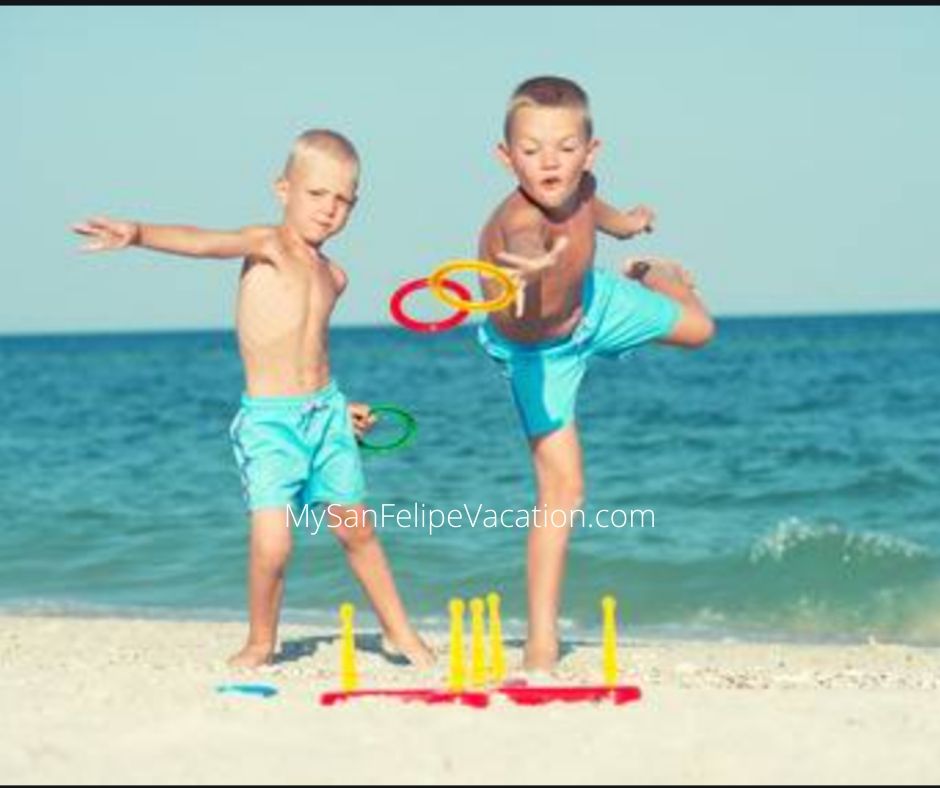 Ringtoss is a classic beach game that kids of all ages can play. It helps improve focus and coordination and can be played in one spot so they're always within eyesight.
What you need
A ring toss set. You can buy these online or purchase one at a beach stop or the local big box store.
What you need
A ring toss set. You can buy these online or purchase one at a beach stop or the local big box store.

Beach Board Games
Board games with little pieces aren't practical for the beach, but you can find classic games like chess and checkers made specifically for games on the go. Look for travel mats that have chess and checker boards printed on them, are easy to roll up, and are waterproof. This can be a calm and quiet way for kids to play.
What you need
A portable board game mat made for travel games. You can order these online or look for them at the Bodega Superstore in San Felipe.
Why we love it
Board games are a great way to bring the family together. It can be a quiet and calm way to spend time together, and can help kids develop strategy and problem solving skills. You can play in the sun or the shade, and games designed for the beach are much easier to transport to and from the beach than traditional board games.
Draw the sunset

San Felipe is known for its breathtaking sunsets, and drawing it is a great way to help kids focus on nature's beauty (and sit still so you can enjoy it) Bring drawing supplies to the beach and before you leave, sit as a family and draw the sunset using the colors you have. Frame the artwork and hang it in your home when you get home
What you need
Paper and crayons/markers/ colored pencils
Why we love it
It is a calming way to end a busy day and allows kids to get creative. It can also help them stop and appreciate the beauty of the San Felipe sunset, and create something meaningful to take home.
San Felipe can be a vibrant city of art, music, culture, and nightlife, but it is also a wonderful place to create long-lasting family traditions. Spending your vacation here is to spend time appreciating the little things, and doing things together as a family.
Bring your kids to San Felipe. They'll love it.
Like
&
Share