Smokin Jo's BBQ Restaurant San Felipe
Before I dive into
Smokin Jo's BBQ,
a welcome addition to San Felipe food scene, let's start with some preamble.
February is carnival weekend in San Felipe. As I headed to
San Felipe
for carnival, I was looking forward to some juicy tacos which San Felipe is famous for….after-all, rumors has it that tacos were invented in San Felipe. I woke up late and so skipped breakfast. By the time I got to the San Felipe Malecon for the carnival, it was pretty much lunch time.
At the Malecon, the carnival was slow to get into gear so I thought I'd grab some of those tacos that had been on my mind all day. A stroll down the Malecon looking for a taco spot and I see this bright colored building with that says
"Smoking Jo's BBQ.
" I thought my eyes were playing tricks on me because there used to the a liquor store in the same spot. I approached Smoking Jo's BBQ restaurant and a fellow friendly gringo welcomes me and opens the door for me. We're off to a good start I am thinking at this point.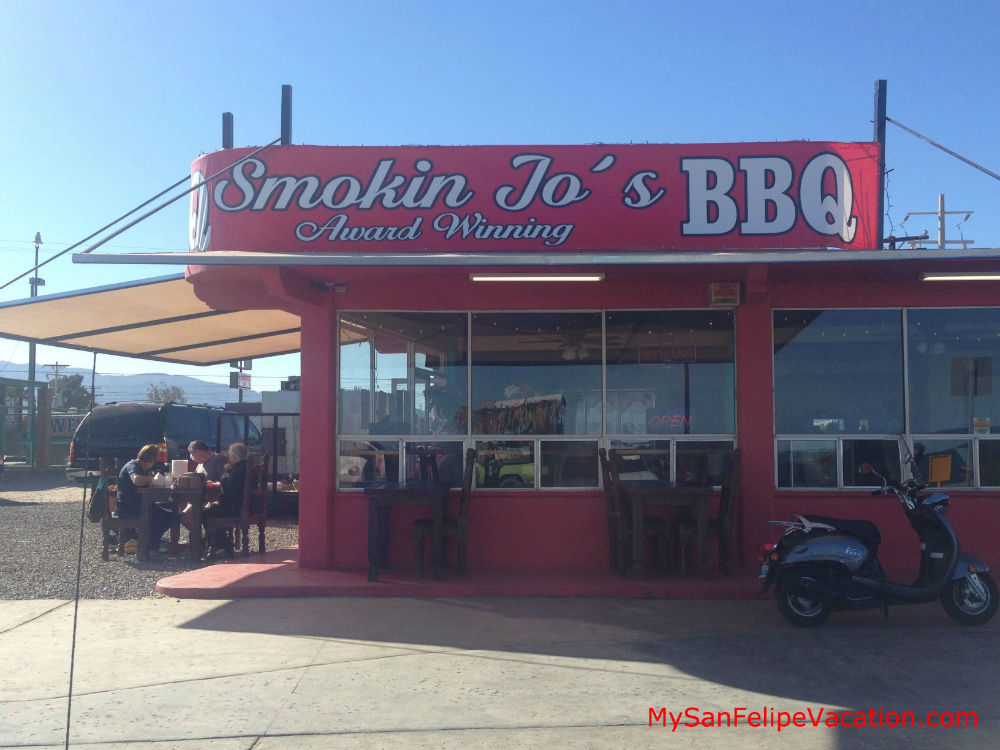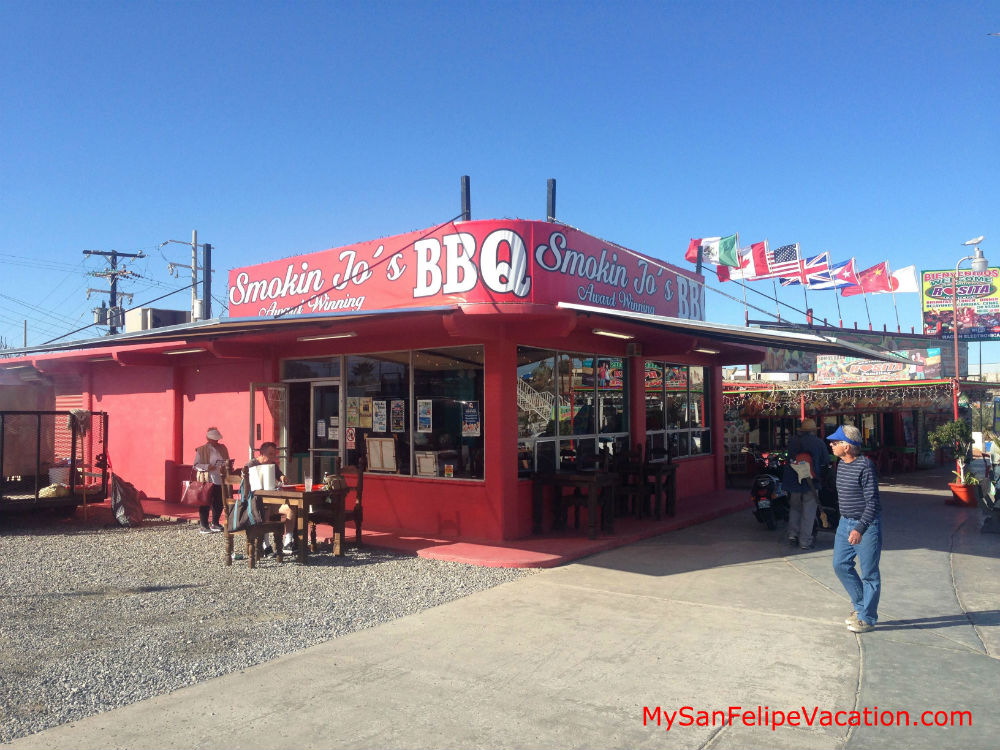 I'm looking at Smokin Jo's menu and as I'm doing this, I'm taking in different aromas and decide I must try something from the menu. I ended up ordering the pulled pork with beans and potato salad.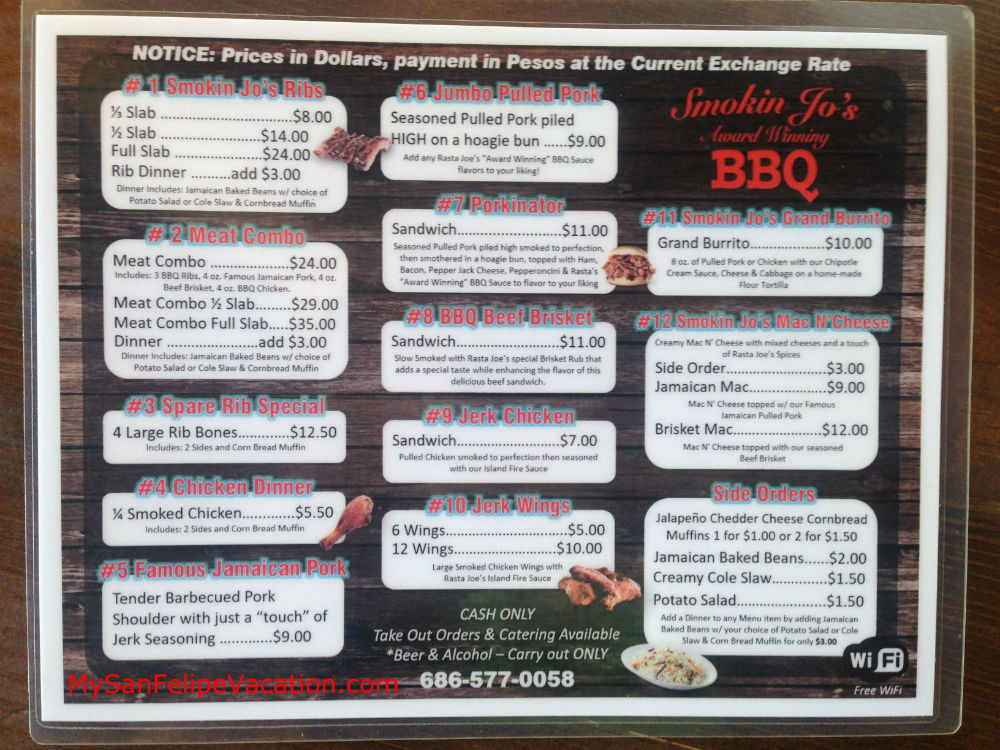 Having studied the environment, I figured out the gentleman who held the door open for me is more than a manager here. So I ask if he is Joe, and Joe confirms he is Joe…the owner. A friendly conversation ensued and I come to learn Joe is a famous award winning BBQ chef from Indiana. Joe has won awards at BBQ festivals all over the U.S. He even makes his own special BBQ sauce sold in the U.S and now in San Felipe.
Before too long, my order arrives. Joe points at a wall rack and let's me know I can find all the sauce I needed on the rack…including mild, hot, sweet, etc. Needless to say, one bite and I was sold. This is really top notch quality BBQ. I loved how big the portions were, and there was something about it being served on a paper plate that just felt so right. The beans and the potato salad were a great addition to the messy, saucy, juicy pork, but I passed a lady sitting outside enjoying her BBQ and she raved about the brisket mac and cheese. I made a mental note to try it next time.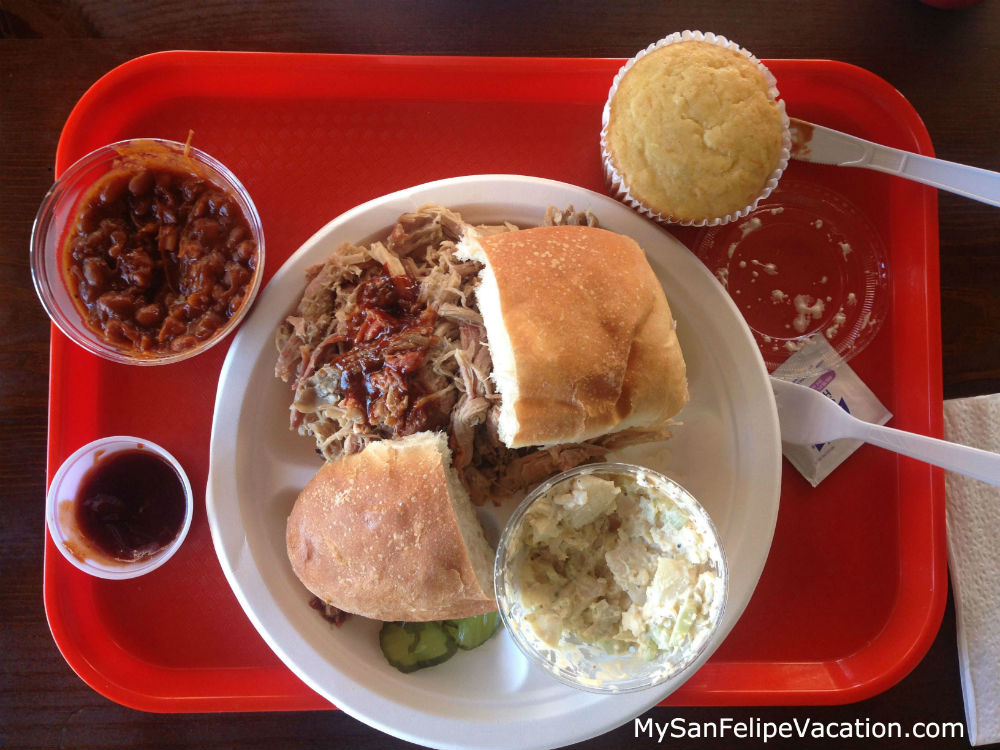 While I devoured my sandwich and dripped sauce on my shirt, I asked Joe about the people who work with him behind the scenes to create just delicious masterpieces. Joe sat down and told me a story about how his father basically adopted a young boy from this area, and Joe came to this area looking for the boy, who was now a grown man, to reconnect. He found the man and now he, along with his family, work together with Jo to run the restaurant. Joe also has an itty bitty firecracker of a business partner in Jody Michele. A New York City native, she's got that "don't mess with me attitude," but when you get to know her she's really the sweetest woman you'll ever meet. It is because of Jody's love for interior design that the inside of Smokin' Jo's looks as great as it does.
The long tables create a community atmosphere, where everyone can sit down together and enjoy their meal. Whoever came up with the brilliant idea to put a cooler full of sauces and side dishes in to-go containers as you walk out of the front door was a genius, because its just too tempting to walk by and not take some home to share with family (or secretly devour on the way home. No judgment here!) Before I left, I glanced over the impressive menu one more time and kicked myself for not trying the #9 Jerk Chicken Sandwich, since Creole and jerk seasoned ANYTHING holds a special place in my heart, (and stomach.) I also told Joe I'd be back with a few of my buddies to do some major damage to the chicken wings, and that Friday afternoon I'd be by after work to try the Porkinator, mainly of its awesome name, but also because who can resist pulled pork topped with bacon, ham and smothered in pepper jack cheese?!
The large, storefront windows overlook the water, creating a very unique combination of smoky, saucy good ol' fashioned BBQ and the peacefulness and beauty of a beach side fishing village. You'd never think the two would make a good match, but as you lick the sauce off of your fingers and devour the home-style goodness, it all just makes sense.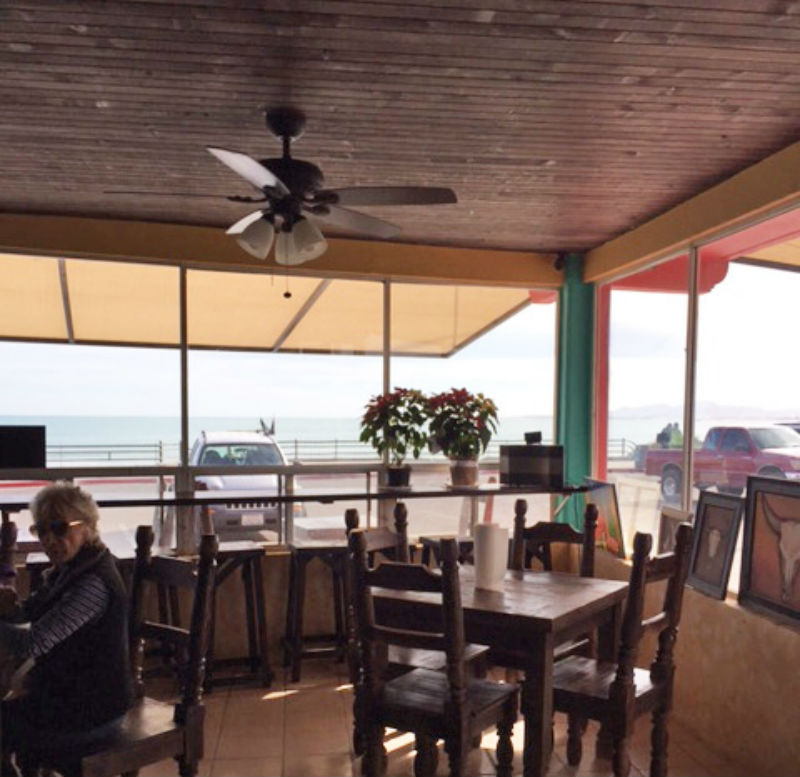 ADDRESS: Avenida Malecon, 243-4, San Felipe, BC, 21850
PHONE: 686-577-0058 (MX) 574-339-4012 (US)