San Felipe Not Just a Place...But a Blessed Way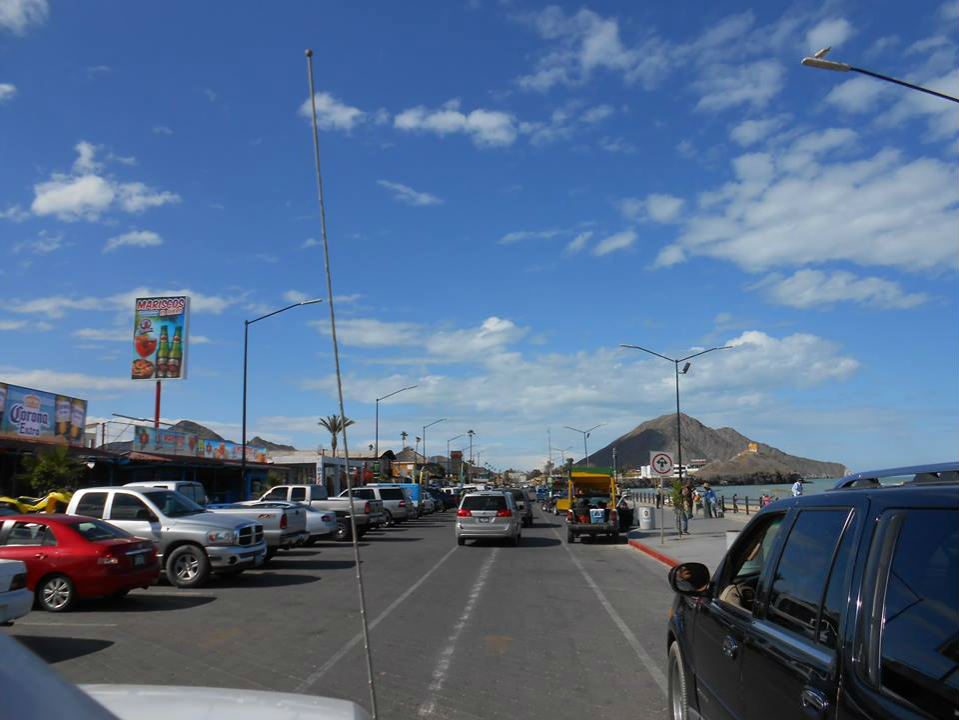 Walking down the
San Felipe Malecon
I'm missing my friends that came to visit me here in our little village by the sea. This morning all seems so calm and everything so well synchronized as I watch the waves lapping up on the seemingly unending white sandy beach. Overhead, at least a dozen noisy seagulls are flying in perfect formations along with those beautiful pelicans all looking forward to a tasty morsel of fresh fish that will undoubtedly satisfy their early morning breakfast cravings. Walking slowly along the seawall that separates sand and cement I look up and down the nearly empty street that not so long ago was teeming with activity.
It was the Big San Felipe Shrimp Festival which is traditionally scheduled for the first weekend in November. So many people from north of the border come to partake in what we seem to take for granted; shrimp, gorgeous vistas, affordable housing, safe and secure beaches and of course the San Felipe way of enjoying life. This past year my friends from what many of us call "the old country" came to spend a couple of days to see if what I was bragging about for so many years could actually be true. Fred being the more nervous and OCD type made absolutely sure his car was in tip top shape. Nothing wrong with that line of thinking but he does tend to go way overboard. After arriving he surprisingly said "why didn't you tell me you had an expressway type highway coming down here? Highway 5 is awesome!"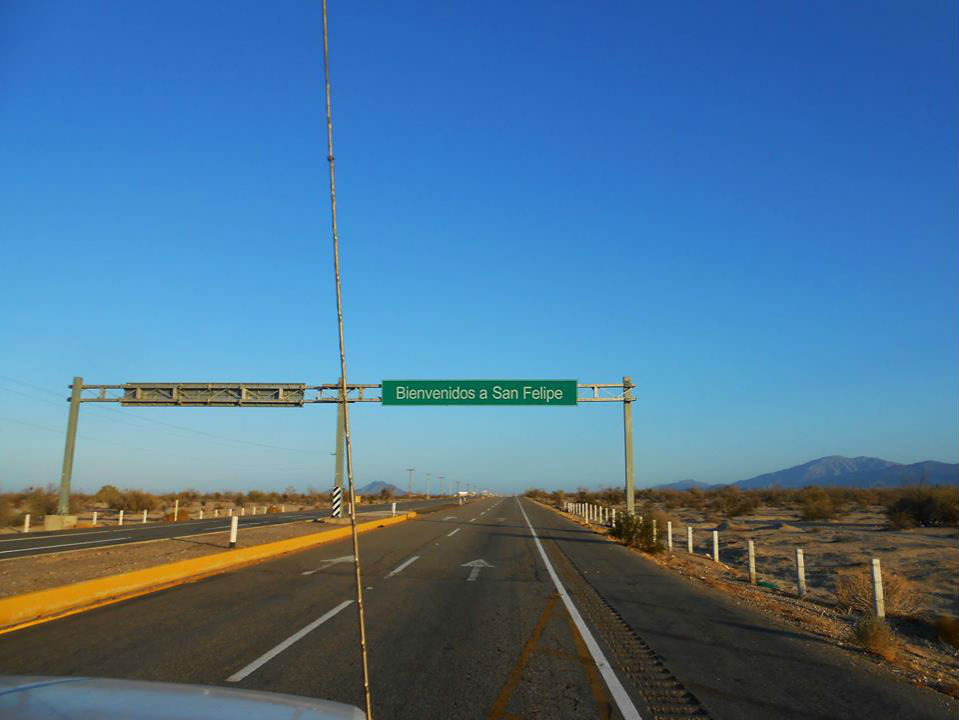 I assured him I had told him but as with many with predetermined ideas it fell on deaf ears. His friend Sheila was far less kind concerning his over-the-top attitude about driving south of the border. She indicated that after passing through Mexicali and getting on Highway 5 south it seemed like time just flew by. She was so impressed with all of the moonscape type scenery. Those of us that pass by those mountains, salt flats and sand dunes often don't even see the natural beauty in them any longer. She went on and on about what she had seen. The rock formations and the different strata are amazing she said. To be honest with you, I felt a little ashamed for not having noticed them as the natural blessings and gifts they truly are. Fred said he just locked the cruise control to around 100 Kph and down the road they flew.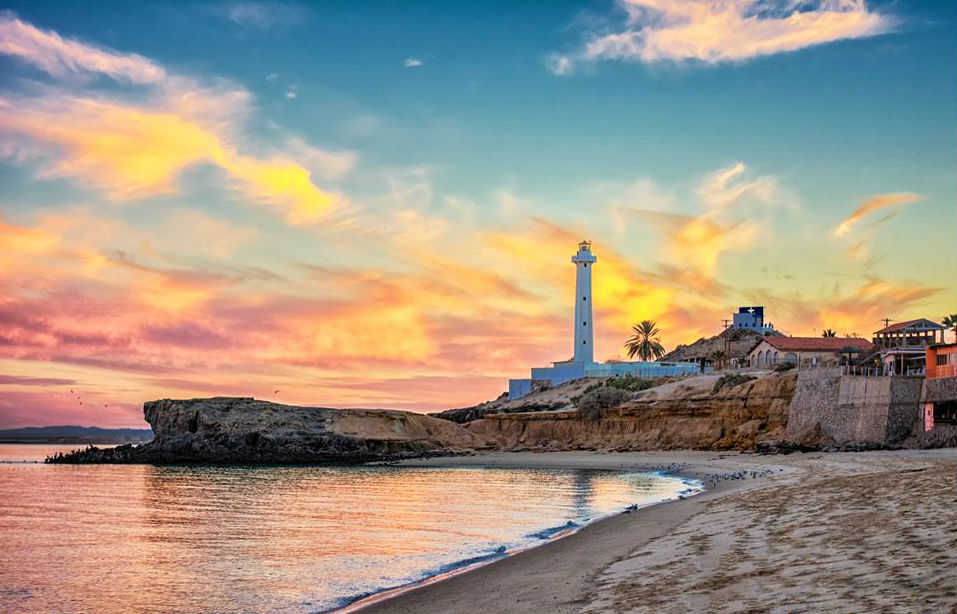 I remember, the following day taking them to the
Pavilion Restaurant at El Dorado Ranch
for an early morning breakfast before we went to the
Cachanilla swap
meet. I knew Sheila would enjoy seeing all the stuff she wanted but didn't really need. But I was shocked at how Fred got into talking to all the car type guys and then ending up at a great Taco Stand operated by my buddy Julio. Having sucked down a couple large barbecued chicken burritos he said he was ready to explode! But then somehow found room for a package of those sinful Churros covered with brown sugar and a little drizzle of heaven to make it just perfect. I have to admit, the crunchy sounds and sweet smells of those freshly made treats almost got to me…almost.
The rest of the day they were both hibernating and snoring in anticipation of enjoying the Shrimp Festival to be held on the Malecon in San Felipe. I too was looking forward to some culinary sea food delights along with cold adult beverages.
Fred is the type of guy who is always late so it was no surprise that finding a parking spot close to the Malecon was going to be a challenge. Getting closer and closer to where all the action was going to take place with nary a spot available for a scooter much less a full size car we kept rolling forward. But, being the positive type I tend to be, and not one to give up, on we trudged. Suddenly out of nowhere these two people cross the street right in front of us and ask me if I needed a place to park. I answer in the affirmative thinking he has a parking lot someplace with just enough room to shoehorn in one more car. Instead, he said in Spanish that he and his wife were leaving and they are parked right here! He walks a few feet and suddenly like manna from heaven a premium parking spot with my name on it appears. "Wow" Sheila said "that was so nice of them. That would never happen where I live. I don't know why but I would never have thought people would be so nice here!" Hey, I'm here you know!! "You know what I mean!" she says.
A one block entertaining walk to the
Malecon
enjoying just the right mix of Mexican Folk type music, beautiful weather, salt air from the Sea of Cortez and of course great friends to share it all with made the prospects for a memory making night probable.
Arriving on the Malecon it was a sea of people with the Sea of Cortez as a backdrop. Arts, crafts, leather, jewelry most from local artisans abound as we slowly made our way through the crowds to our ultimate goal of finding fresh shrimp!
Every few steps we would have to stop to see something exciting, for these two amigos were in a trance of sorts. That's when I started taking notice of all these wonders they were appreciating.
I began enjoying the excitement surrounding us through their sense of smell, sight, sounds and of course taste.
The shrimp we found everywhere we looked was astounding! The smell of bacon being wrapped around a perfectly cooked and cream cheese stuffed shrimp was delightful! My personal favorite was a toss up between the garlic shrimp and the coconut shrimp. How we ate so much I'll never know. The atmosphere, the music, the sounds, everything surrounding us was electric.
After a bit we needed a rest, so we found a comfortable spot at my friend's booth. Arturo is a wonderful artist that is now sharing with all of us a new passion; his culinary delights. He is indeed an artist with a brush and pallet as well as in the kitchen. We are all fortunate that he calls San Felipe his home.
Fred stretched out a bit and said "you know what's missing here? I can't believe there are so many people in one little place having such a great time, all this adult beverage to be enjoyed and I have yet to see anyone get out of line! In fact the only cops I've seen around seem to be pretty bored with not much to do. Do you realize the problems we would have where I live with this many people in one spot? It's pretty amazing and unbelievable!" He said. I hadn't ever contemplated that but Fred was correct. No issues, the cops that were there seemed to be pretty bored and we all felt very safe and secure roaming around enjoying what the San Felipe Shrimp Festival had to offer us.
I suppose that sometimes the only way to appreciate something we all take for granted is through someone else's eyes. Again this almost shameful feeling of how I could have taken all this for granted came over me. Just about then Sheila said she'd like to walk down on the beach so we crossed the well lit street and walked down the seawall stairs. That's when she abruptly stopped in her tracks. "Oh my goodness! Would you look at that! Look at that huge moon. It looks like it's popping right out of the ocean." Even Fred, one of the most unimpressionable people I know said "Holy crap! Now that's impressive." Sheila laughed and said "That's Fred, Mr. Romantic." We all sat there on the sand just taking it all in; being one with that special moment in time and feeling blessed.
The question I posed to myself was "how is it that it takes a visitor to show us just how blessed we are to live this life, to enjoy this view, to be one with this beauty everyday?" On the way back to my house they asked if this was the main event or festival of the year. I just laughed and said that no, there are many, many festivals and special events. I listed off just a few as being The Tequila Festival, The Blues and Arts Festival, Chili Cook Off, and that's to name just a few. Oh and the city of San Felipe hosts a Welcome Back Snowbird Festival to give a big welcome home to all the part time residents that call San Felipe their home away from home.
Fred and Sheila extended their stay by several days to try to take it all in. But in the end they had to return to their reality. I do hear from them often as plans are being made for a return trip and perhaps with plans to stay longer like so many winter visitors tend to do.
Since that day, I've tried to make it a point to not take this oh so blessed place and life as a given or an entitlement. So far so good!
I suppose the take away is for those of us blessed enough to call this place home even for a short while is to remember to treat San Felipe like a loving relationship…that is, don't take it for granted. This place in which we are allowed to call home is indeed a special place, a wonderful place, it's our place. It's Our Little Village by the Sea
Dario de Baja
Tweet
Things to do in San Felipe