Playa Azul - A Mexican Restaurant Where You Can Have it Your Way
Written by Madi Kennedy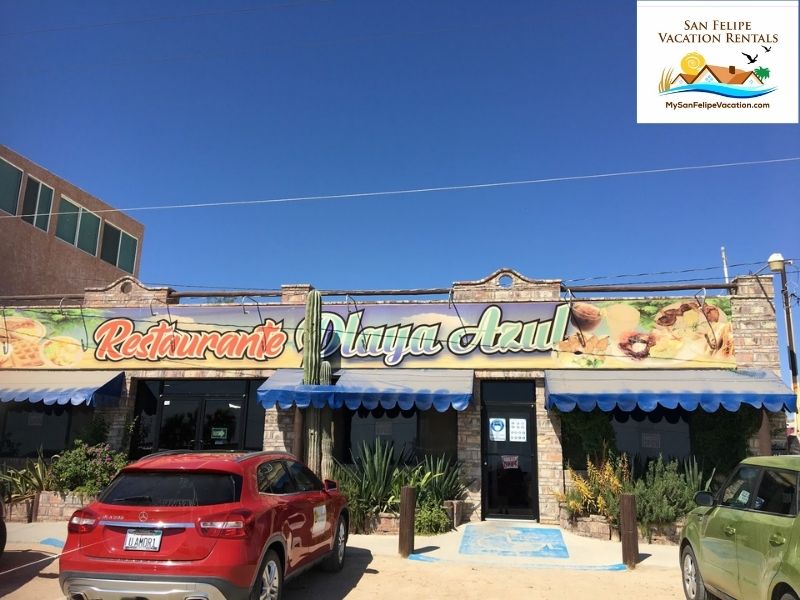 Have special dietary needs like low-to-no sugar, plant-based or lactose free? With
Restaurante Playa Azul
in North San Felipe, Baja California, Mexico, you are more than likely able to have your favorite Mexican entree (and some classic American ones too) custom tailored and served by a friendly team dedicated to making sure your food is the way you want it!
Perfect for: Affordable Mexican Food, Catered Events, Brunch With Friends, Dining Solo, Reliable Friendly Service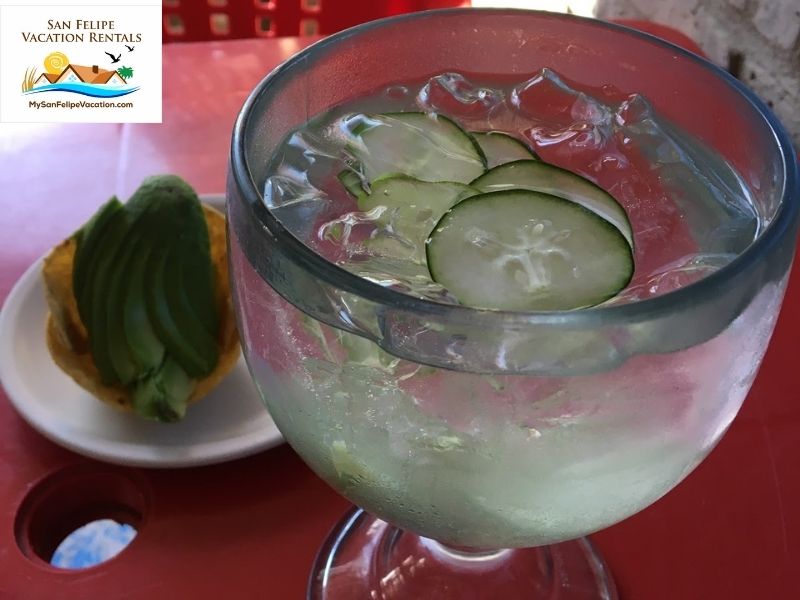 For the many residents of North
San Felipe
, Baja California, Mexico, when several of the
restaurants
of North San Felipe close for the summer, it brings the sense that summer is truly here. Fortunately, there are many fantastic options open all year long in downtown and North
San Felipe
, and Playa Azul is a favorite among them. As someone who eats plant-based and avoids added sugars, finding Playa Azul has felt like a big win. One tasty example of how they cater to those with different tastes is their cucumber and lime water, pictured above, that they either have on hand or will make for you whenever requested! Beyond that the prices are hard to beat, especially for North San Felipe where some of the restaurants, even casual ones, have prices on par with or close to American prices. At Playa Azul I walk out after a full meal having spent $4.50 including tip.
Made to Order…. "Cauliflower Ceviche"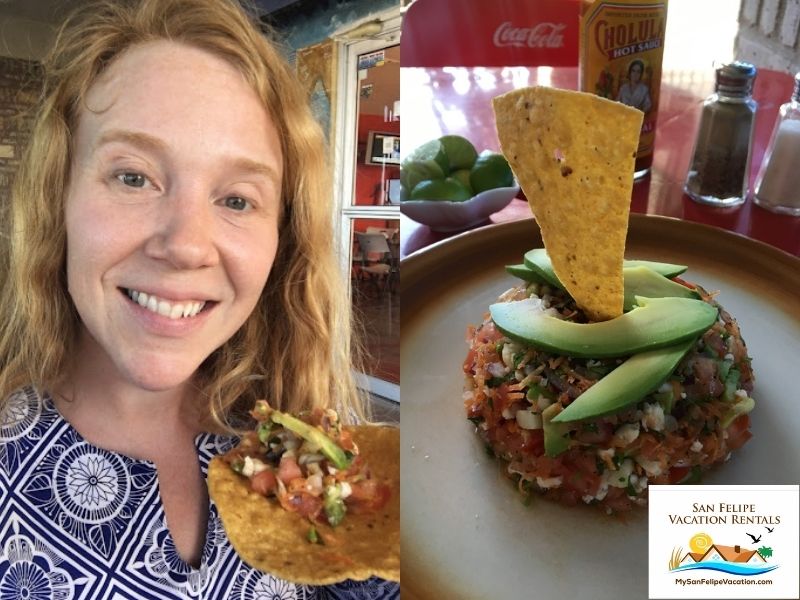 On a day when I realized I was fast becoming a Playa Azul regular I was having one of their delicious cheese stuffed peppers when the owners daughter (also one of the cooks and the manager), Ahide, came up to me and explained that her mother-in-law was a vegetarian and they could prepare all sorts of plant-based versions of their standard Mexican fare. All I needed to do was call ahead by 30 minutes for most dishes to be prepared and ready upon arrival. Cauliflower ceviche was her first suggestion and it did not take long for me to try it. I will admit I was stunned at how delicious the dish tasted given it was a simple mix of chopped cauliflower, avocado, onion, tomato, carrot and cilantro, with lime garnish served on a tostada. It has become my new staple dish at Playa Azul!
Chilaquiles With Eggs Over Easy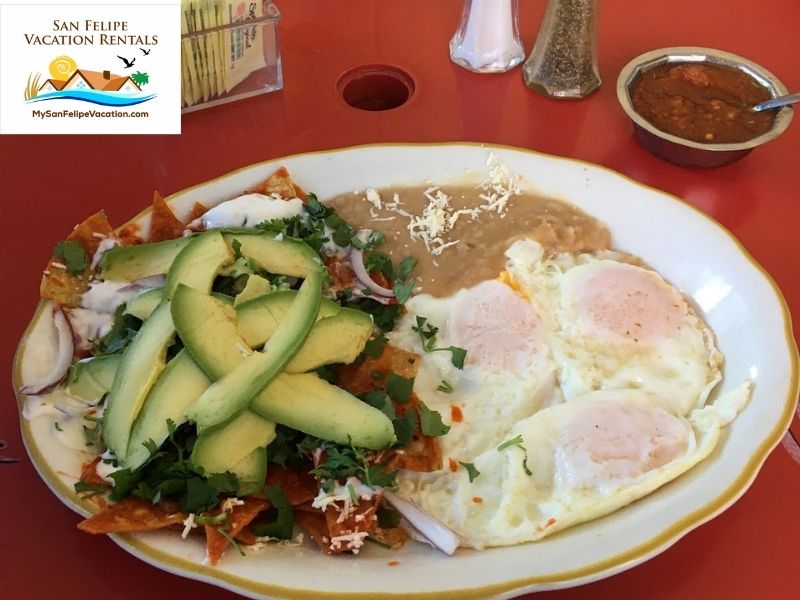 Playa Azul does a great job with the standard Mexican breakfast dishes like Huevos a la Mexicana (eggs Mexican style-my favorite), they know how to make fantastic hashbrowns, a tasty omelette or standard eggs and toast if you like to play it closer to home. To-date they make my favorite chilaquiles in San Felipe, or crispy fried tortilla chips with red sauce, avocado, onion, cheese and cream. When I'm intermittent fasting and want to stay full all day I love to get this with three eggs over easy, extra avocado, cilantro and onion.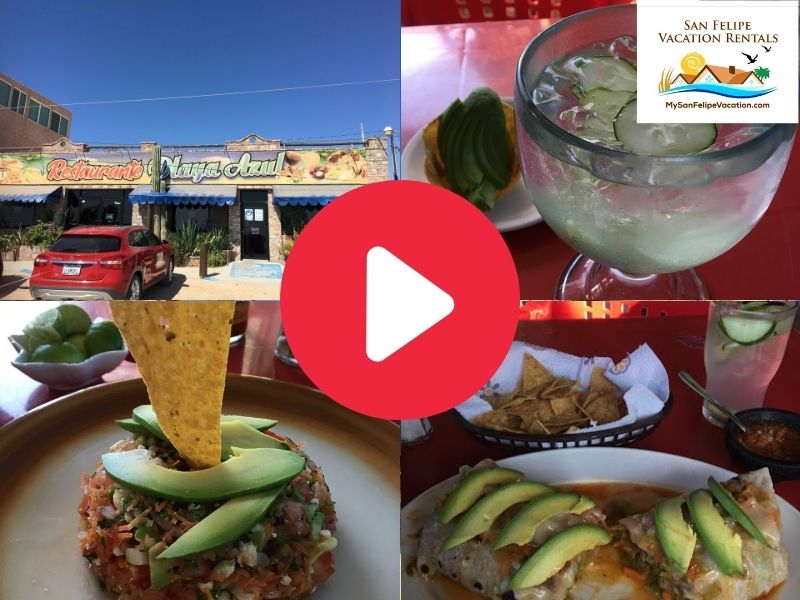 Vegetarian Burrito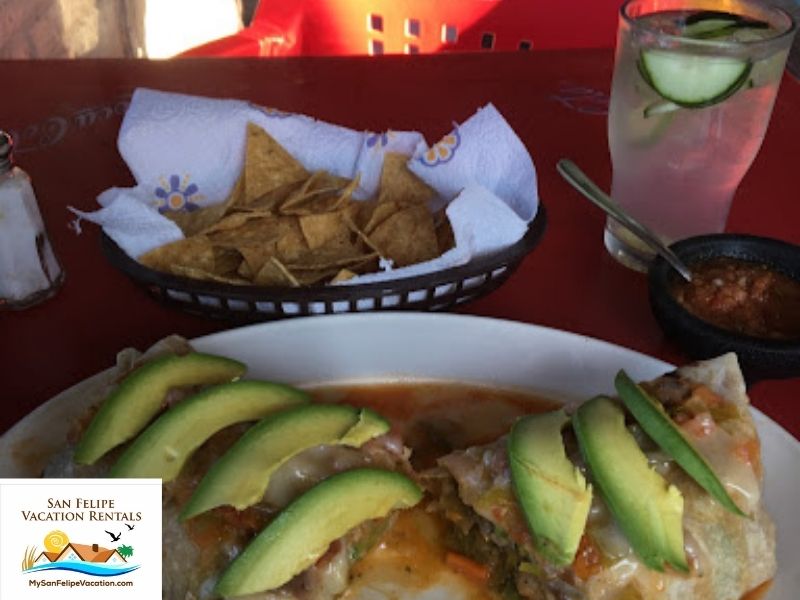 A different take on a classic, they added refried pinto beans to the mouthwatering burrito filled with zucchini, mushrooms, carrots, celery (I recommend to hold the celery unless you are a big fan!) cheddar, and, perhaps my favorite part, covered it with a delicious ranchera salsa made with lightly cooked fresh tomato, pepper and onion. This is served with a basket of tasty tortilla chips and a housemade salsa that is predictably medium spiced and delicious. All I can say is, yum.
Your Favorite Food - Made to Order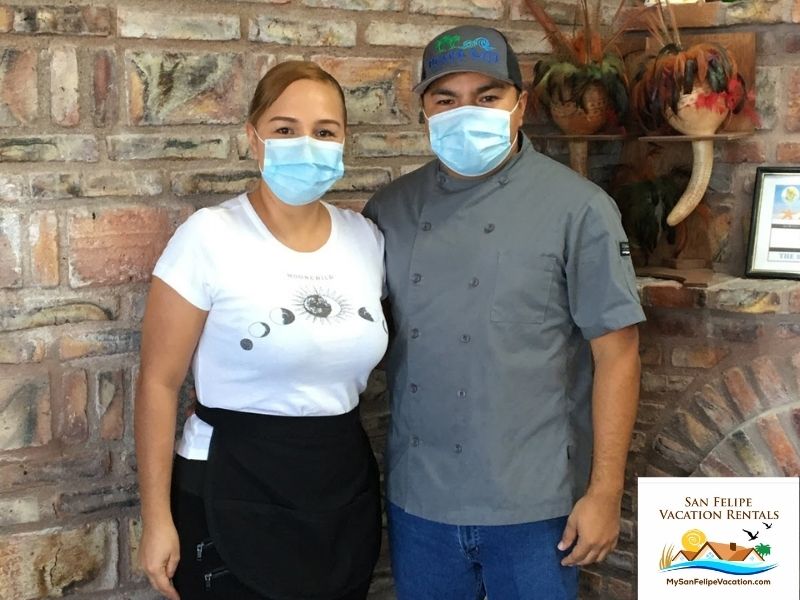 Some of the classic and not so common options that can be made healthier to order are stuffed zucchini made with a veggie medley, cheese and avocado, vegetarian fajitas, oat patties with salsa and avocado, broccoli and guacamole tostadas, and probably just about anything you can think of on the lunch or dinner menu! Just don't forget to call ahead if you would like your meal to come out quickly. Unless you don't mind waiting half an hour, which you can do in the cool comfort of any of their air conditioned dining rooms.
Other Tidbits
The chef is Armando Beltran (pictured above with his wife, Ahide) and they cook food to order including safely addressing many food preferences and allergies (inquire with them regarding the allergy of concern beforehand at +52-686-586-5205). Their team knows how to quickly and efficiently turnaround your order, whether you arrive in person or call in a takeout order. They have a large, fully air conditioned room that can seat parties as large as 80. Having eaten at an event held there I can attest that they do catering right. Their dog-friendly patio is fully enclosed and usually has open tables. Normal hours of operation are from 7am-7pm Thursdays-Mondays, Tuesdays 7am-3pm, and closed on Wednesdays. Make sure to check out Playa Azul on your next trip to San Felipe. When you do, you will find it's about a mile past My San Felipe Vacations on Highway 5 going south and they are on the right hand side just before the second OXXO in town. Stop by and say "Hola" to the My San Felipe Vacation staff on your way, or book your next trip now online.
CONTACT INFORMATION
Address: KM 182 San Felipe - Mexicali Highway 5, San Felipe, Mexico
Phone: +52 686 586 5205
Email: [email protected]
GOOGLE MAPS LOCATION
Follow below google maps link to get turn by turn directions to Restaurante Playa Azul