Road Runner Restaurant - A Mexico-Meets-NYC Deli Delight for Omnivores & Vegetarians Alike
Written by Madi Kennedy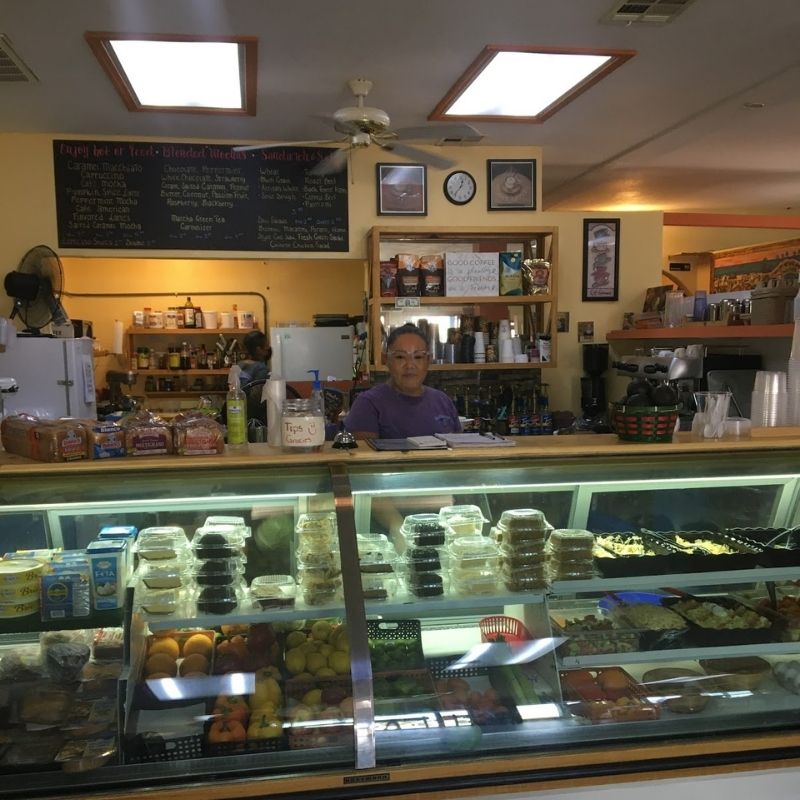 Whether you are headed to San Felipe, Baja California Mexico for the first time, or you are headed back for another fun time, Road Runner Restaurant is a local staple that you must check out for yourself. Between the friendly service, delicious American comfort food breakfast and lunch menu, equally tasty Mexican dishes, and the quick bites like breads and salads, you will be hard pressed to find better eats in San Felipe.

Perfect for: Quick Eats, Brunch With Friends, Dining Solo, Reliable Friendly Service, Catering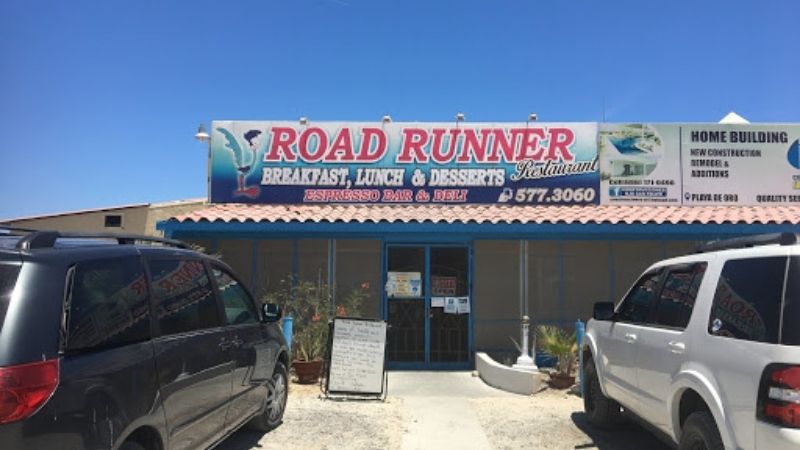 The dusty roadside cafe-like exterior of the
Road Runner Restaurant
, just north of San Felipe, Baja California Mexico, is deceptively modest for what one finds inside. The ring of cars that usually surround the building begin to give away how popular this place is, and for good reason. Of any restaurant I have been to regularly in San Felipe, the consistency of the quality of the food, iced espressos, and service is yet-to-be matched. You quickly see that this family restaurant and espresso bar takes hygiene and safety seriously as you walk through the entrance doors, with masks available for purchase, multiple sanitizing options and a body temperature checker greeting you as you enter. More than likely you will also be greeted by a friendly "hello" from one of the many English and Spanish speaking staff by the entrance, who will quickly learn your name.
A Place Where Good Friends Meet
Just about any day of the week you will find groups of friends meeting up at the Road Runner for breakfast or lunch. With the way the staff are familiar with everyone and their favorite food orders, even if you are dining solo, as I am, it's easy to feel like you're part of an extended family while you are here. The patio is dog friendly and staff are quick to bring your best bud some water so he's not feeling left out of the experience.



Food & Drink Rundown
Whether you are looking for takeout or to eat in, you will find your order is ready right on time. If you are also someone who appreciates good ole' American comfort food, like paninis and potato salad, but prefers to mostly eat Mexican while in San Felipe, Mexico, Road Runner will meet all your needs.

Espresso Bar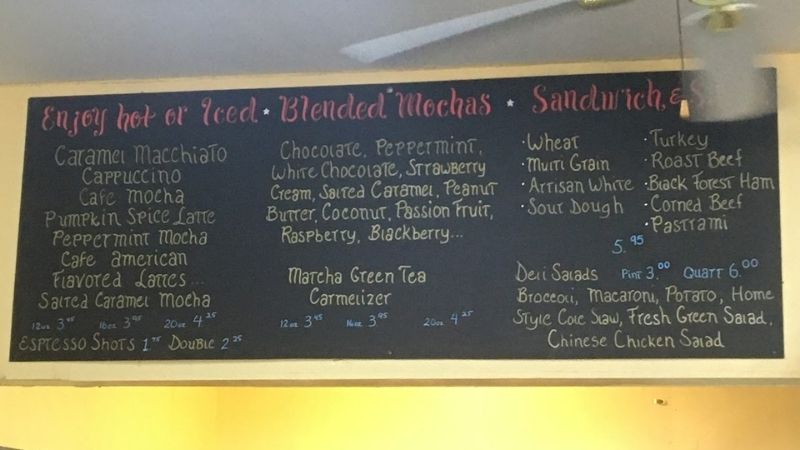 The espresso bar beats any I've been to in San Felipe, and if the person who knows how to make your "special drink" isn't there, they will go to great lengths to get it 'just right' anyways. They have teas, regular and decaf coffee and espresso and all the flavor syrups you can ask for, along with a variety of creamers and milks; from regular, lactose-free to soy.
Quick Bites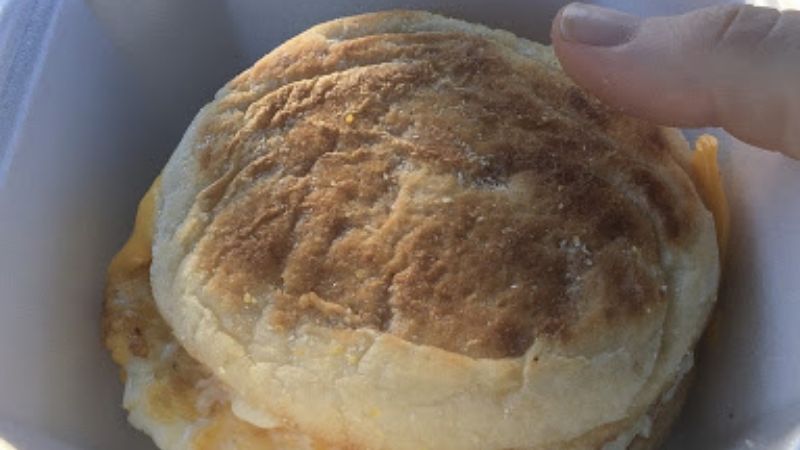 Looking to grab a quick bite on your way to go kayaking or
hiking
? How about an Egg & Muffin? Road Runner hits this American breakfast menu classic out of the park, with or without ham. Whether you call them ahead of time or stop by on your way out to have some coffee and a chat with the staff for a few minutes while they prepare your order, you won't be waiting long to get your hands on this. If you're planning on a big day you can grab one of their fantastic house made banana breads or an apple strudel to hold you over for a late lunch.
Breakfast Burrito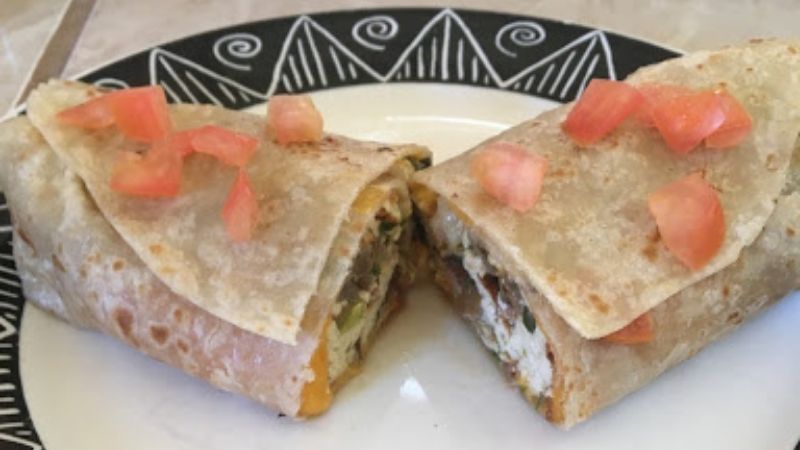 For the vegetarians and pescatarians among us, their breakfast burrito can easily be ordered without the standard ham, and instead with a tasty mix of veggies,egg and cheese that packs a high calorie punch that leaves you feeling grateful and full for most of the day. The salsa that comes on the side is the real deal, house made with medium spice. If the burrito isn't your thing then perhaps the Huevos Road Runner will fill your appetite for Mexican, with scrambled eggs, green chillies on a flour tortilla topped with Ranchero sauce.
Omellets Galore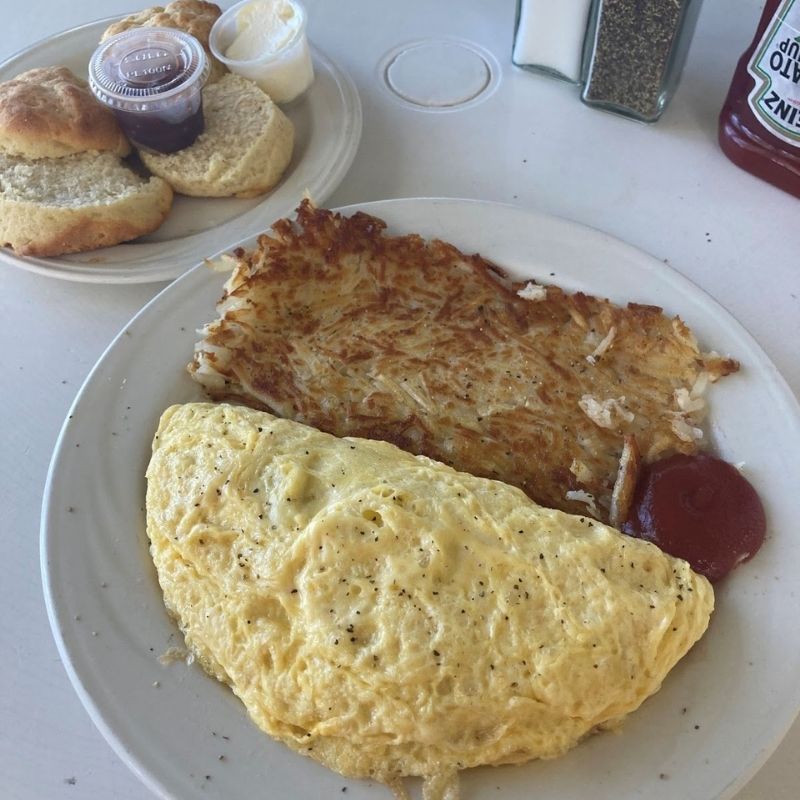 If you like omelets you should be pleased to know they have a variety of options, from classic to creative, all reliably tasty, if not on the thick side. Pictured above is my classic mushroom and swiss omelette, specially ordered as it's not on the menu, along with an order of their house made biscuits and strawberry jam. Their Veggie Omelet comes with sauteed asparagus, diced onions, sliced tomatoes and your choice of "strong or soft" swiss cheese, another new favourite of mine. On days when I'm not doing intermittent fasting and I'm eating lighter, I will get the wonderful fruit salad instead of the potatoes, which come as hash browns or home fried potatoes. If omelets aren't for you they have a wide variety of egg, pancake and french toast dishes you might find on a breakfast menu anywhere in the US.
Paninis, Sandwiches, Burgers & Salads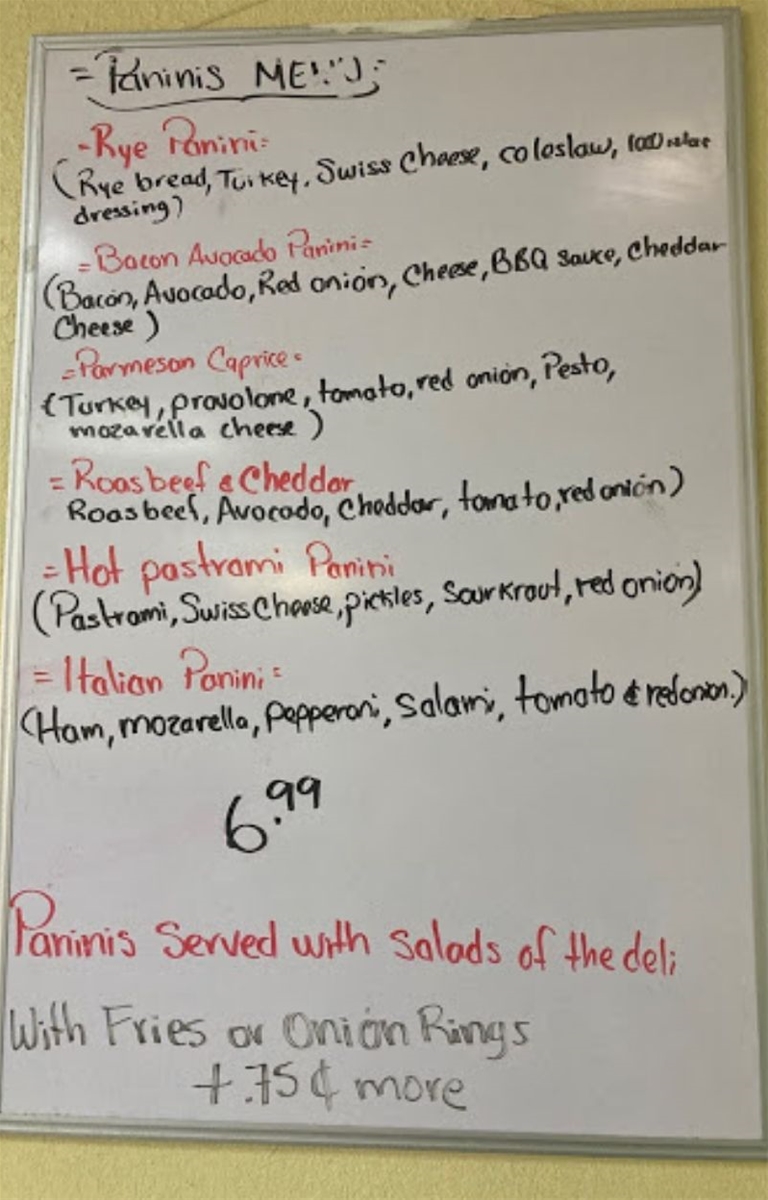 While you have probably figured out by now that I'm kind of into brunch, I hear great things about the paninis, sandwiches and burgers from the many regulars who frequent the Road Runner. I plan on working my way up to the lunch items eventually. After having tried the always crispy green salad full of veggies, not to mention the mouth wateringly good coleslaw, potato, broccoli and macaroni salads, it's hard to imagine the chefs don't get anything right.
Other Tidbits
The chef is Erwin Soto, although this high performing team work together so it's not unusual to see a variety of staff pitching in to get the orders out quickly. They have daily breakfast and lunch specials that can often be found posted on Facebook's San Felipe Chatter group. They offer a full catering menu consisting of vegetable, fruit, meat and cheese platters, meatloaf and lasagna, and a variety of salads, cakes and pies. They offer in store shopping for cheeses, veggies, desserts, milks and coffee creamers; handy access for those who'd rather skip the trip to town for these high quality items. The restaurant is closed for the summer every year from around July 11 to October 3, which is perhaps the only downside I have found there. Their normal hours of operation are from 7am-2pm on Mondays, Tuesdays, Wednesdays and Fridays, Saturday 7am-1pm, Sunday 7am-12pm and closed on Thursdays.
If you head to Road Runner Cafe on your next trip to San Felipe you will find that
My San Felipe Vacations
is right around the corner. Stop by and say "Hi" or check us out online to
book now
.