The Garden of Eat`N
About Us:
My name is Dina. I retired from working for the CA state Senate in 2017 and moved to San Felipe, selling everything I owned and never looked back. Fast forward a few years and met my husband Paul who is not only an amazing human but an amazing Chef. We married in June of 2022.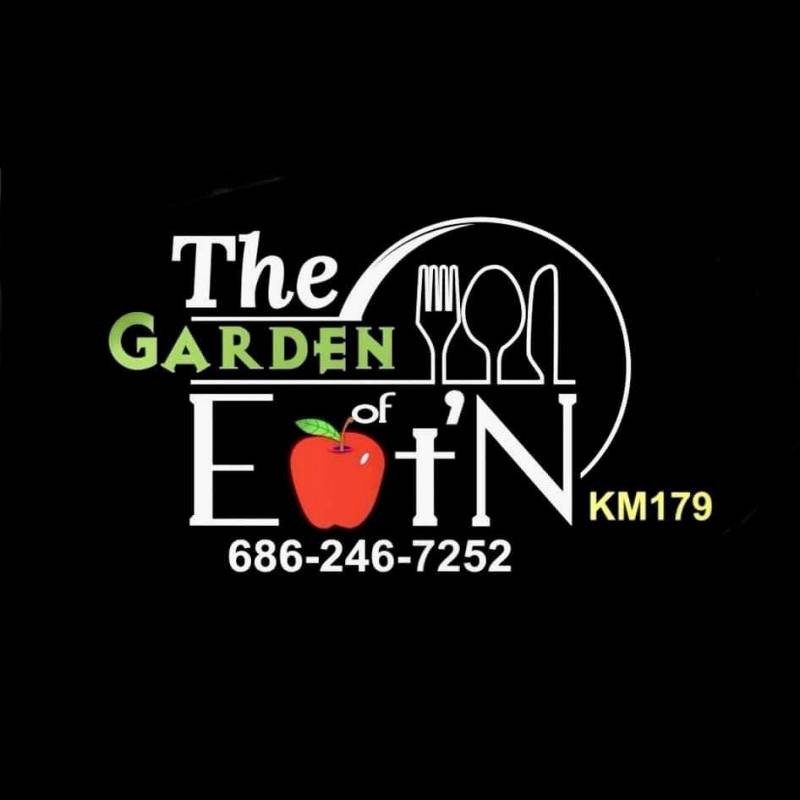 The Garden of Eat'n concept was started in the summer of 2021. Chef Paul and I wanted to open a restaurant but restaurant space was scarce. We stumbled upon a beautiful food truck designed by an artist in Tijuana. We brought it back to San Felipe and have created from a dirt lot, a beautiful Garden outdoor Restaurant.
We are open for Breakfast and Lunch. Wednesday-Saturday 7:30-2:00 and Sunday 8:00-1:00 for Brunch only. We also are open Friday Nights for Dinner 4-7. Our Menu changes every other week. We offer fresh homemade soups, salads, panini's, sandwiches, chef specials, smoothies, and of course Chef Pauls homemade hollandaise sauce to top the several Eggs Benedict Sunday Brunch selections we offer. Please follow our Facebook page for menu and specials.
We also offer catering for small or large parties, fruit trays, vegetables trays and party platters.
About the Chef:
After graduating Culinary School in Alberta Canada, Paul has worked as a Chef in many 5 star Hotels and restaurants as well as the Butchart Gardens. He also worked in Jamaica for super clubs. When he returned He opened a successful fine dining restaurant in Canada For all Seasons.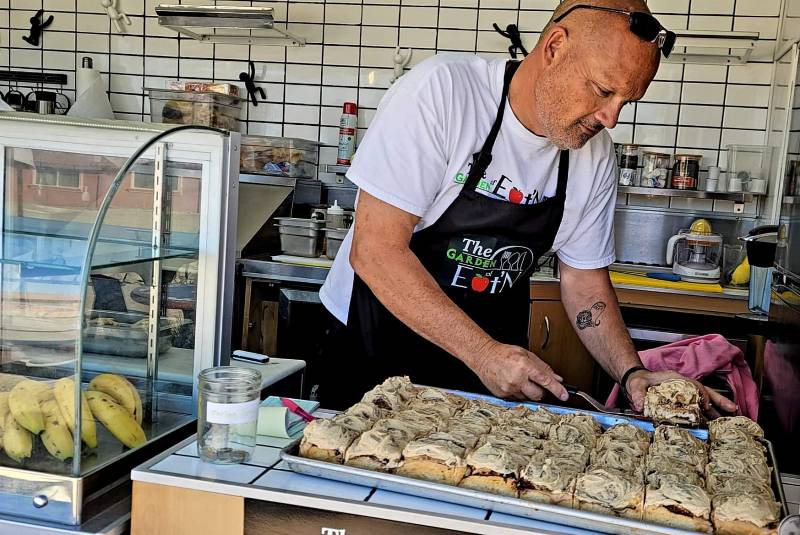 Why San Felipe:
San Felipe is a friendly and diverse neighborhood where generation after generation has put down roots, grown families, and started businesses. But every once in a while, a new idea finds its way to the vibrant fishing village and makes a mark on the community. One of these ideas was Garden of Eatn.
Back in 2017, Dina Lucero retired from her job in the CA State Senate and was looking for change and adventure. She set her eyes on the beauty and opportunity in San Felipe, sold everything she had, and never looked back. A few years later, she met her husband Paul who just happened to be a passionate and talented chef. Together, with their combined love of food and community, started dreaming about offering healthy and fresh food to the people of San Felipe. These dreams led to serious conversations about opening a restaurant, but they struggled to find restaurant space amongst all of the other established eateries in the town. So they changed their strategy and bought a gorgeous food truck hand painted by an artist in Tijuana. They brought the food truck back to San Felipe, bought some land, and got to work carefully curating a menu that would feature classic breakfast and brunch dishes with an elevated twist.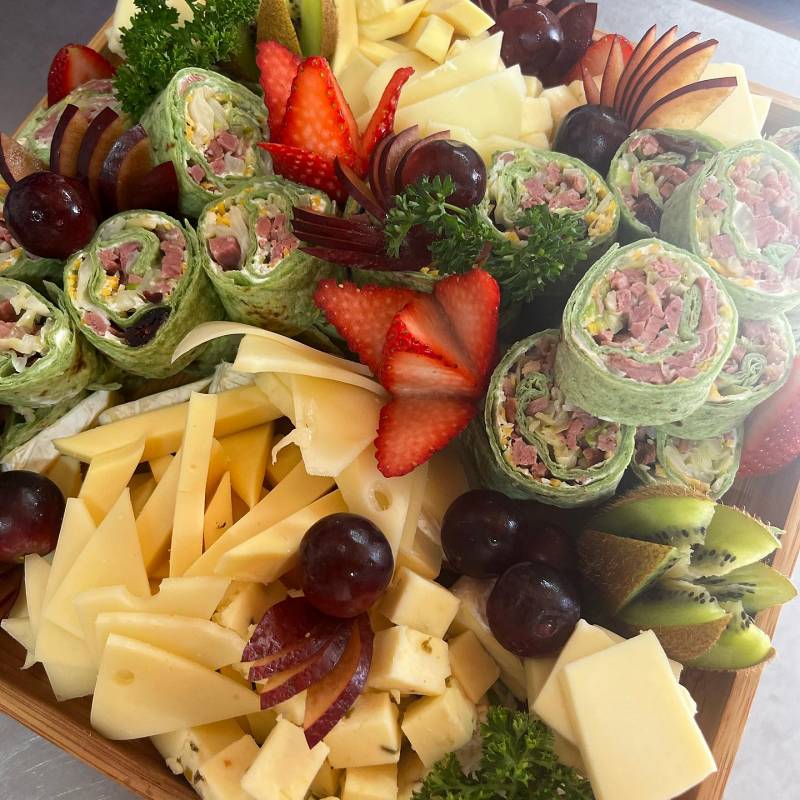 Things started to come together, and soon they were watching their dream of a garden restaurant come together. They called it The Garden of Eatn.
One of the unique aspects of this restaurant is that the menu changes every week. Swing by on your lunch break and try the fresh homemade soups, salads, paninis, sandwiches, chef, and daily specials. Early birds can stop by in the mornings and enjoy freshly made smoothies, and the famous Eggs Benedict topped with Chef Paul's homemade hollandaise sauce,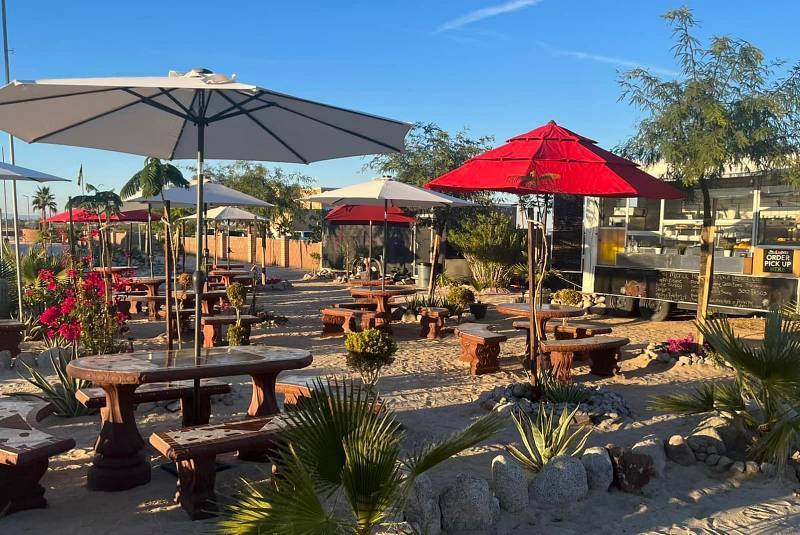 The Garden of Eatn Facebook page is updated regularly, allowing hungry customers to peek at the menu and see what magic Chef Paul is working up in the kitchen. Locals love hiring the Garden of Eatn catering team to create big batches of their signature dishes and serve them at parties, family reunions, banquets, and other events.
If youre looking for healthy and colorful breakfast, brunch, and lunch options in San Felipe, head over to Garden of Eatn and support a local family. You can find them at km 178 behind Second Chance and Frankies. It can be hard to spot, so look for the flags and road signs.
Where?
We are located at km 178 behind second chance and Frankies. Open Wednesday through Sunday. Look for our Flags and road sign! Temptation awaits see you soon!
Garden of Eatn is open for breakfast and lunch. Their schedule changes throughout the week:
Monday closed
Tuesday closed
Wednesday 7:30-2:30
Breakfast and Lunch
Thursday 7:30-2:30
Breakfast and Lunch
Friday 7:30-2:30
Breakfast and Lunch
Friday 4:30-7:30
Dinner
Saturday 7:30-2:30
Breakfast and lunch
Sunday 8:00-2:00
brunch
Dina, Paul and the rest of the Garden of Eatn team are excited to serve you!
---
Other Articles that may interest you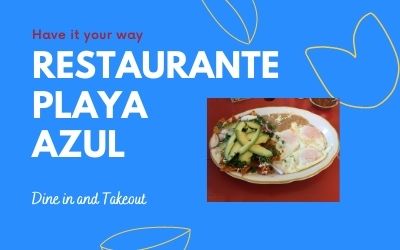 Playa Azul - A Mexican Restaurant Where You Can Have it Your Way. They can make almost any combo you can think of.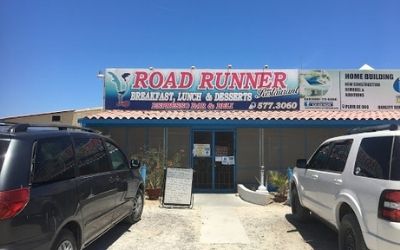 Whether you are headed to San Felipe, Baja California Mexico for the first time, or you are headed back for another fun time, Road Runner Restaurant is a local staple