Spend Thanksgiving in San Felipe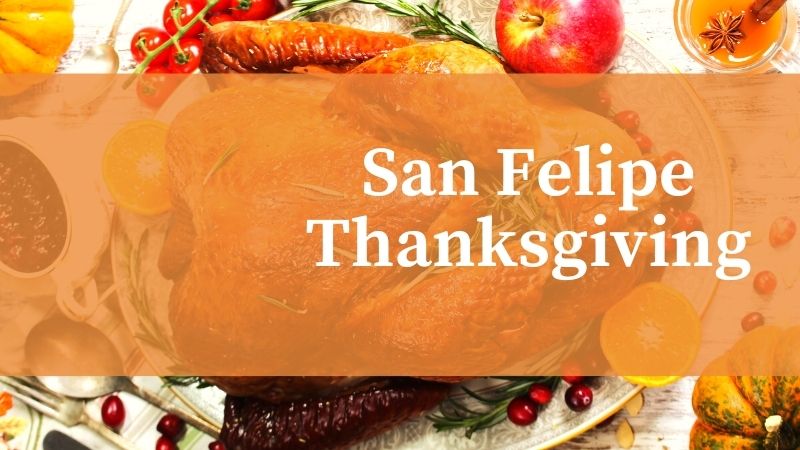 Thanksgiving is that special time of the year we all look forward to. It's the beginning of the holiday season and joy is in the air. It's that time of the year when families and friends gather with loved ones to enjoy and celebrate together. To make it extra special, why not make it a
San Felipe
Thanksgiving. That's right, you set San Felipe Baja California as the destination for everyone to meet up.
Families choosing to spend
Thanksgiving in San Felipe
typically take off and arrive in San Felipe the Wednesday before Thanksgiving. On Thursday, the Thanksgiving day, you're all settled in and ready to enjoy some quality time.
Many reasons to chose San Felipe for Thanksgiving.
Easy drive from States like California, Arizona and Nevada.
Driving down from California, Arizona and Nevada to San Felipe can, depending on your starting point, often be done within hours. The drive can be turned into a road trip and good opportunity for the family to bond. San Felipe - Mexicali Highway 5 from the border is in great condition which makes driving at any hour seemless.

You don't need to fly and so no worries about being stuck in airports.
Flying to a destination during the holidays can be stressful. There are often flight delays and cancellations. All these you don't have to worry about when you make a road trip to San Felipe.

In the year of Covid, avoiding crowded places is preferred and San Felipe offers many uncrowded spaces, including endless beach, where you can pick your spot to relax without worry.

Many affordable vacation rental homes on MySanFelipeVacation. Unlike summer when utilities rates are higher, the lower utilities rates in November are passed on the renters in the form of lower nightly rates.

Thanksgiving meal Options: Dine-in or Delivery
There are many quality restaurants in San Felipe which will be open during Thanksgiving. You can chose to dine in, or have the restaurant deliver a set thanksgiving menu to you vacation rental. If you did not bring your favorite beverage with you, no worries you can browse the aisles of the local grocery stores and find your favorite drink or try something new.

San Felipe November weather:
November weather in San Felipe has average day time high of 80 degrees Fahrenheit. This beautiiful weather allows you go get out there after a big meal and engage in some calorie burning fun activity. Whether you chose to go for long beachwalks while soaking up some vitamin D, or a swim, or biking, or some dancing, you'll have the perfect weather.
CHOICE OF VACATION RENTALS
There are many
vacation rentals
to chose from. Considerations for your choice of vacation rental will include the number of guests traveling with you, number of bedrooms required and desired amenities.
In El Dorado Ranch, most of the
beach side rentals
have two to three bedrooms. This is a good choice when you have a group of 4 - 8 guests. The
mountain side rentals
2 - 4 bedroom options. Important to note is while there are swimming pools on both the mountain and beach sides, only the mountain side swimming pool is heated. Either side of the ranch you prefer to be on, should you need more bedrooms than a house/condo has, please
inquire with us
, we have a few homes with four bedrooms and can look into getting you two or three rentals next to each other which may meet your occupancy requirements.
If you prefer the
beachfront rentals
, look no further than the rentals in Villas de Las Palmas community, These rentals are literarily right on the beach. The homes range from two to five bedroom rentals and are a great choice for up to 20 guests. While Las Palmas rentals have great beachfront location, they do not have access to swimming pool.
South of San Felipe you will find communities of
La Hacienda
,
Los Sahuaros
and
Rancho Percebu
. These communities all have access to the beach. La Hacienda has a good combination of condo and house rentals options. There are 8 La Hacienda condos to chose from making it easy to host large groups. In the yard a table can be set up for all to gather and celebrate.
Whether you chose to celebrate with immediate family or extended family, we have the perfect vacation renal for you. To find the perfect rental, simply visit our home page, enter your desired travel dates and requirements, then click on search. Only available rentals will show.
RESTAURANTS WITH THANKSGIVING SPECIALS
Below list are some of restaurants open and serving Thanksgiviing meals on Thanksgiving day. Early reservation reservation and ordering is encouraged.
Got a guestion about coming down? We're available 8AM - 8PM daily:
Phone
: 760-592-1261 (US) or +526861872399 (MX)
Email
:
Contact form